Size advice
Bellydance bras standards
- The bras' bust sizes are elastic and come with several hooks. You are free to add a bra extender to gain in a few seconds, inexpensively and very discreetly several centimeters in the back.

- Concerning the cup size, it is made so it can be worn by 1 or 2 sizes, usually cup B and/or C, C/D or even E/F, according to the indications given in our store.
Bellydance bras handcrafted in Egypt
- The bras have specific
hooks
 that you can move as you wish (by unstitching them and then sewing them back) depending on the size of your bust size but also behind the neck.
- The bust size of these bras is usually very long, so the greatest number of dancers can easily adjust it to their morphology by fitting the hooks to their size.
Ajustable bras and tops
These are tops and bras with adjustable long straps in the back and behind  the neck to suit a large number of dancers with varied morphologies. These tops and bras fit very easily without any sewing work just by tying 2 knots, one in the back and the other behind the neck.

You can use a costume/ bra in your cup. You can also choose a model with a lower cup for a « push-up » effect, or higher by using pads...

Extensible skirts and pants
Depending the models, they stretch more or less around the waist so fit, for the majority of them, size 36 to 42. For larger sizes, sewing work is advised such as :
- cut the elastic band at the waist of the skirt/pants to add a small strip of fabric or extra elastic band to gain some cms
OR
- unstitch/open the skirt/pants on one side (lateral opening) to add fabric on the length (either with similar fabric or with the same one bought exclusively for this sewing work). It is not unusual that some groups of dancers all buy the same skirt + an extra skirt of the same model to be cut so they'll be able to adjust the skirts of all the dancers in the group.
Belts from sets standards
They come with several levels of velcro. However, if you are a few centimeters short, go ahead and add a piece of fabric, elastic band or use safety pins in the back, it's very discreet!


Ajustable belts from sets
These belts have long straps in the back, to tie according to one's morphology and waist size and so they'll fit the largest number of dancers...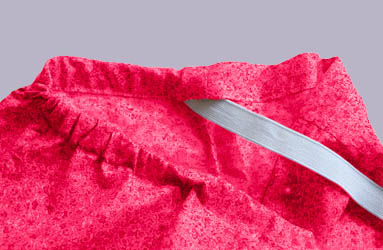 Watch Laëtitia's advice, our fashion designer
to adjust easily your belly dance costumes to your size
Care for your Bellydance outfits and accessories
Oriental dance costumes and accessories

Most of the Oriental and Indian dance costumes and accessories sold on BellydanceDiscount.com must not be cleaned in any way. Only « natural » fabrics (skirts or veils without sequins, nor glitters...) can exceptionally be hand rinsed. Ironing can eventually be done on the inside, preferably on a humid cloth and at very low temperature.
To protect the folding of your
Bellydance Isis wings
 and the silk of your
fans
, and protect them from wear, travel and protection bags sold in our store are strongly recommended.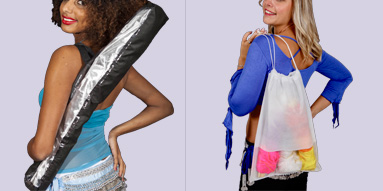 Bellydance class outfits
Most of the class outfits  (except body and other tops in "net" or other fragile see-through stitch) can be washed in the washing machine on the delicate cycle, without spin drying. However, in order to protect the lace and colors of our products, BellydanceDiscount.com recommends her customers hand-washing.
Tops, skirts, trousers, bras and shoes

Check our sizing chart equivalent by country (PDF)