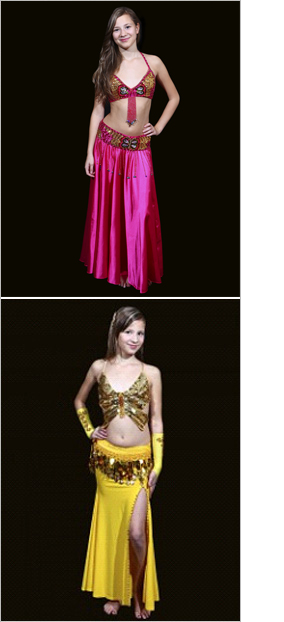 Little belly dancers dream to have the same clothes as their elders…
BellydanceDiscount.com has created several belly dance outfits just for them…
Complete costumes for children
All little girls want a complete belly dance costume, BellydanceDiscount.com offers several sets available in child sizes:

• Top and pants set
• Top and skirt set
• Top and belt set
Do you prefer a unique costume? Create yourself by combining a top, skirt, belt, sleeves and even jewellery and makeup of your choice in our kids section!
Does your little belly dance princess practice the Baladi or Saïdi dance? The shop offers quality Baladi dresses from Egypt and dedicated to children.
Belly dance accessories especially for children
Having accessories for little girls is important to allow them to easily perform choreographies like true professionals! Discover our range of accessories for children:

• Small Isis wings that facilitate the movements of young people (110x240 cm)
• Poi Veil shorter and more manageable (4-16 years), an exclusivity of BellydanceDiscount.com!
• Canes in small sizes for children of ages 4-16
• Fans adapted to the hands of young people between 4 and 16 years, sold only in our shop
• Jewellery selected for children
Do you hesitate between several models or costume sizes? BellydanceDiscount.com exchanges or refunds your items as soon as possible.

Every young belly dancer will find their heart's desire on our Thousand and One Nights online shop!