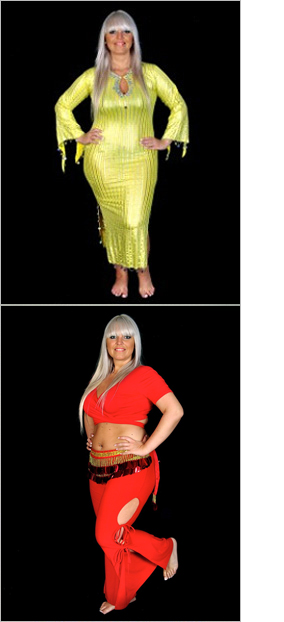 For BellydanceDiscount.com, all belly dancers should feel beautiful and comfortable in their course outfits and costumes. This is why the website sells a wide range of items for larger sizes.
Our belly dance costumes in large sizes
As well as several complete belly dance costumes, we have models for D and E cups and sizes up to XL. They are present in our 3 price ranges:

• Mini price
• Soft price
• High-fashion price
BellydanceDiscount.com also offers a great selection of Egyptian dresses for Baladi and Melaya choreographies etc... extendable up to XL size.

You wish to create your own belly dance costume? Then discover our gorgeous skirts and pants extendable up to sizes L and XL. They will enhance your beautiful choreographies and this always at a discount price!

Our selection of large bras up to F cup for belly dancing will ensure the support and enhancement of your chest. Also consider our fasteners offered in our oriental haberdashery which will allow you to gain a few centimetres of comfort for your back.
Class outfits for large sizes
For all those who want to remain feminine even during classes, your belly dance online store BellydanceDiscount.com offers a large choice of class outfits (pants + top or only pants, only top) for sizes L and XL.

Finally, our beautiful ballerina shoes are in our shop in size 41 for a very small price.

For YOUR but also OUR pleasure, find everything you need for belly dancing in large sizes in our shop.