How does the first Bellydance class work?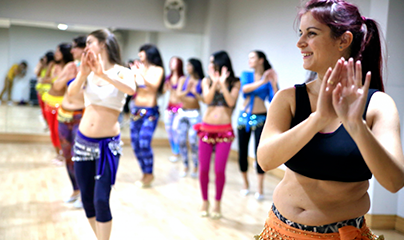 Each Bellydance teacher has his/her own pedagogy and structures the courses his/her own way but here is a small overview of what to expect if you attend your 1st Bellydance course either because you are already registered or because you participate to a trial class for a possible registration.


Bellydance teacher's presentation
Your oriental dance teacher will probably start his/her class with a presentation of his/her career as a dancer and especially the one as a Bellydancer. You can then learn whether the schools and personalities who trained him/her are French or international, his/her performances (participation in dance competitions...) or about other activities in the field of dance (member of a jury of evaluation during dance competitions, dancers' coach...). He/she will also discuss his/her other acquired skills necessary to teach dance well, such as knowledge of anatomy, the meaning of pedagogy...


Classes' organization and calendar of shows
The Bellydance teacher will remind the slots, places and possible other taught subjects but also how she teaches. Some teachers rely more on dance and "fun" while others are much more rigorous with the theory and consider the training necessary to control movements as important if not more as the choreography. Here's an example of a 1-hour Bellydace course structure: Start with a 10-minute warm-up followed by 20 minutes of movement training, then 25 minutes of dance routines, and 5 minutes of stretching. The Bellydance teacher will also tell you if shows or events are planned with his/her students during the year. Participation in these performances is mostly on a voluntary basis.


Bellydance's history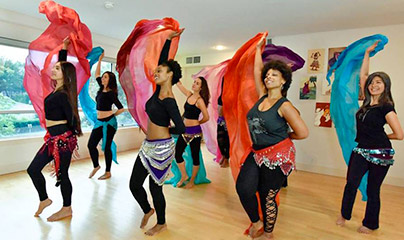 During the 1st class, your teacher will probably give a short presentation of the Oriental dance's origin (emergence, social, music and rhythmic references…) with maybe a short presentation of some of the Bellydance's accessories (veil, Isis wings, fans, cane…). These subjects will then be further developed throughout the course year because Bellydance is steeped in its history and traditions.



Teaching of some basic moves
Your teacher will begin by dissecting some of the most basic oriental dance movements as "the eight" or the accent of the hips. Observe, try and attempt to reproduce them by following the explanations and feeling well every movement. It's your turn!



Simulation of movements in a sequence
Once some Bellydance movements have been explained, practiced and corrected by your teacher, he/she will include them with a few steps in a small simple sequence. The opportunity to put them into practice and indulge to the catchy oriental sounds.
What to wear during my bellydance classes?
Opinions are mixed, some teachers will recommend traditional Bellydance scarves with sequins to mark the rhythms and others scarves without sequins or small skirts to, on the contrary, hear each other better during the course and work on feeling the movements.
Bellydance skirts, costumes and bras are mostly kept for the stage. For a Bellydance class or workshop, it's better to wear a comfortable close fitting outfit such as these outfits, pants, leggings or bodysuits allowing you to see the work of the legs, pelvis and knees. Moreover, these Bellydance clothes are very trendy and feminine!

Trainers are not recommended. Small ballet shoes or foot pads are recommended to avoid dancing barefoot and thus protect the sole of the foot. Finally, a small top preferably short to see the belly during exercises will complete your oriental outfit. The perfect dance item of clothing? A body or mesh top to see all your belly's moves well while covering it slightly.

With this article dedicated to new students, you now have plenty of information to start learning how to dance with pleasure and serenity.