What is the Tribal Fusion dance?
Thank you Élisa LHORTOLAT, teacher of Bellydance and Tribal Fusion, for telling us about the origins, foundations, and characteristics of tribal Fusion oriental dance.
How was born the tribal Bellydance?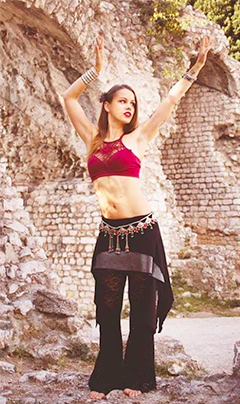 Tribal Bellydance was created in the United States by Jamila Salimpour, an Oriental dance teacher who offered the first type of "tribal Bellydance" at the "Renaissance Pleasure Fair" festival, a Middle Age festival. Her company, "Bal Anat" gathered all kinds of performers: dancers, actors, circus artists, all with many artistic profiles. The company's promotional leaflet mentioned a dance troupe from "different tribes". This expression inspired the "tribal style" name. Jamila Salimpour trained many dancers who in turn transmitted this new way of seeing Oriental dance, being as close as possible to a pre-colonial Oriental dance.
Later the person who breathed life into this new practice was Carolena Nerricio who, in the 1980s created the company "Fatchance Bellydance" and the format "American Tribal Style" (ATS®), a codified semi-improvisation format.
After it'll be Jill Parker, "Fatchance Bellydance" dancer who will lay the first stone of what we call Tribal Fusion. Jill Parker wanted to be able to create new movements and dance without feeling like she had to follow the ATS® format as it was thought by Carolena Nericcio, but while keeping this dance's spirit and its characteristics.


What characterizes tribal fusion dance?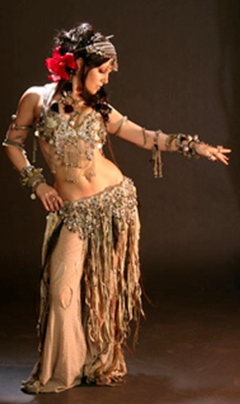 The tribal fusion characteristics result primarily from the characteristics of ATS® since one is born from the other. The ATS® is of course inspired by Oriental dance, but also Indian dance and gypsy flamenco. The posture in ATS® is very important: knees are bent, the pelvis is held with a slight retroversion, the bust is stretched out, the rib cage open. This posture also belongs to tribal fusion. Some movements and their names also come from ATS® : taxeem, egyptian, maya and others.
The tribal fusion technical characteristics are especially linked to the superposition of movements thanks to thin isolations of the different muscles groups. Tribal fusion requires an almost somatic anatomical mastery.
But the advantage of tribal fusion is the freedom it brings: freedom of movements, freedom in the music choice, and freedom in the costumes' choice. Of course big names in tribal fusion, such as Rachel Brice, have known how to impose an aesthetic. Today, talking about a unique tribal fusion would be reductive.


What are the different tribal styles? Can you explain the particularities of each of them?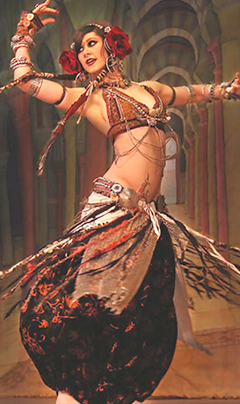 There are as many tribal fusion styles as there are tribal fusion teachers. The "Datura" format created by Rachel Brice and the "Dance Craft" by Zoé Jakes are now ranked in the "vintage tribal fusion" category, consistent with the pioneers' style.
Of course big themes are often taken by tribal fusion dancers: a burlesque tribal fusion which uses the American pin-ups' music and attitudes, a dark tribal fusion marked by Gothic aesthetics, a more urban tribal fusion with a hip-hop world. But there are so many possibilities that categorizing this style of dance would mean losing some of its own richness.


Which type of Oriental dancer does the tribal fusion speak to?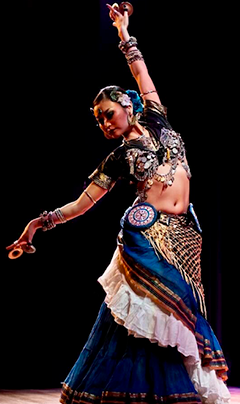 Tribal fusion seduces by its "snake charmer" side very characteristic of the style. Movements' isolation and superposition require technical mastery which gives you the desire to always learn more.
The richness of these worlds allows Oriental dancers but also other dancers to express their creativity on other music styles. We must also forget the cliché that tribal fusion is a "dark" universe where it is forbidden to smile.


What has the evolution of tribal fusion dance been in recent years?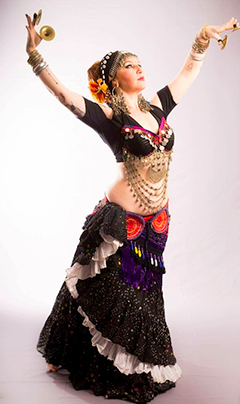 Tribal fusion was discovered in France thanks to the American Bellydance Superstar company. Today it is a dance starting to find its audience and having more and more followers, even with men. For example, I started teaching tribal fusion in Nice in 2013 where I had 3 students. Today in 2019, I have almost 40 students in my 4 tribal fusion groups, including one man.


What are you so passionnate about in Bellydance and tribal fusion?
I've never been able to choose between the disciplines because they both bring me so much artistically and humanely. Nevertheless, even Oriental dancing I like the fusion side and I am also closer to a modern and fusion Bellydance than a traditional "sharki" Oriental dance. The tango, samba, Tahitian, and Argentinean baladi fusions are what I love and teach.
In tribal fusion I love the freedom to being able to create on any kind of music. I also love the challenge that there may be in the tribal fusion work and which pushes one to keep on working.


What is your background in dance?
This year I celebrate my 10th school year. I created Kahina oriental & fusion in 2012 and since then, my association has kept on evolving, always carried by women, beautiful souls. We opened Studio K, our multi-disciplinary dance school in 2018 in Nice, and today we have about 100 students including 2 men who practice tribal fusion, Bellydance and ATS®.
At the same time, I pursue a thesis in the "dance" section of Nice Sophia Antipolis University. I should defend my thesis at the end of the year 2019, beginning 2020 and it is about the theme of gender in the Oriental and American Tribal dances.