A meeting with VAINA, oriental dancer in Dubaï
What's your background in Bellydance?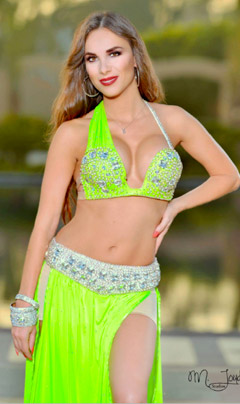 I discovered Bellydance with Perla Elias Nemer when I lived in Italy. What was first a hobby soon became a passion, I joined the folkloric company Amirat de Perla while taking Bellydance classes with Saad Ismail and Valentina Mahira (I went from 2 hours of weekly classes to 8 hours!). I am a tireless worker, it's everything or nothing. I attended all conceivable Bellydance workshops to learn as much as possible, until I met Farida Seidi and Momo Kadous in 2012.
In 2012, I came back to France and dedicated myself to dancing. I went to Germany one weekend a month to train professionally with Kadous, 6 hours a day and also followed an individual intensive training for 4 years with Farida Seid.
At the same time, I went twice a year in Ukraine to take individual lessons, 15 hours a week, with Julia Mitsai and went to Egypt every 3 months to take private lessons, learn Arab, and understand the Egyptian culture. I started teaching quite late and with the advice of Farida Seidi who taught me the teaching methods.
In 2016, I left France for Dubaï, where I teach and work as a professional Bellydancer.


How do you analyze the market of Bellydance in Dubai?
The market of Oriental dance is very competitive in Dubaï; there are lots of bellydancers, especially from Brazil and South America. It took a long time to have "my spot" here.
The system is completely different than the one in Europe. Here, bellydancers must meet some criteria when it comes to the Bellydance costumes and the physique (especially the curves, height or even the hair color)
. Everything goes fast, we are selected by a simple glance at the pictures, so I learned to be very reactive and use my promotional materials (pictures and videos) adapted to the UAE market.

The bellydance classes' format is also very different from the one in Europe. Most Bellydance classes are in fitness clubs, they are not strictly speaking classes with students' follow-up and pedagogy like in France but rather some belly fitness. Of course, there are classes in a dance studio but it's not easy to have a follow-up of the students (90% of the population is expatriate and people arrive in and leave the country continuously).
I teach in a dance school and my classes are very technical compare to the teaching method here. I have my core of faithful students because I insist on the student's development, group's feeling and I like to create connections by organizing several events around Bellydancing.
With great regret, there are no end-of-year oriental dance shows in Dubai like we see it in Europe, I make up for it by taking my students to Cairo, at the Ahlan Wa Sahlan Festival (last year they presented my work and finished in the 1st place in the Shaabi category).
My students are mainly European, Russian, Egyptian, and Lebanese expatriates. These students want to learn Oriental dance because they live in the Middle-East or because they want to learn a dance which belongs to their culture.

Private bellydance lessons are much more popular here, usually sought by Emirati or Saudi women who want to learn to be more attractive (exact words) or do not wish to be "mixed" with others. Here, Bellydance is rather rooted in the Lebanese style.
The use of accessories is very large. Clients are looking for something sensational (LED accessories for the Isis wings and the canes, poï veil, fans, etc).
For the bellydance performances, they are usually 30 to 45 minutes long, divided into several passages (1, 2 or 3 at the most). The performances are usually on 5-star hotels, which is very enjoyable for a dancer and hotels are gorgeous in this country. Unlike what I saw in other countries, here the client decides everything: a bellydancer is chosen in a minute and it is not uncommon that they choose the dancer's costumes as well as the songs on which she must dance.


Are you traveling to other countries for your job and what are your future projects?
In Dubai, we're at the center of the world and there are many requests from neighboring countries. I traveled to Qatar (before the diplomatic crisis), Bahrain, and Oman. I had many requests for Bellydance shows in India, Pakistan or also the Maldives.
Working and living in Dubai makes it possible to travel one or two days in these countries, something I could not have done otherwise.
As for my future projects, I live a little day-to-day, I will teach Bellydance in Egypt at the Ahlan Wa Sahlan festival like every year, other projects are in progress but I'll talk about them once they're finalized. I would like to give workshops in France or in Italy when I'm going back to visit my family.
I do not plan to stay in Dubai forever. I've lived in 5 different countries over the past 14 years and for the moment I do not see myself going back to France. I'll decide on the next country when time comes.


What type of Bellydance stage outfit/costume do you prefer and why?
I have a very big weakness for Bellydance costumes with polka-dots! At some point I only had these. My costumes are usually made in Egypt or Ukraine. I do not really have preferences I follow my heart for the traditional costumes.
Since I work in the Emirates, the Bellydance costumes required here are those define as the "traditional costume", meaning the one very open on both legs. So for the past year, my purchases go toward this style because I do not really have a choice. I wear my favorite  costumes shaabi/baladi outfits when I have events family-style which do not have these requirements when it comes to the costume. I still hate dancing in heels. Here, we do not dance barefoot, it's not considered elegant. Usually, depending on the events, during the first passage "I analyze" whether the audience is more or less "stuck-up" and as soon as possible I take off my shoes :-)



What's your favorite Bellydance accessory and why?
I'm not so keen on accessories compared to what's requested here. The only accessories I use and love are the shamadan and the tahtib. The shamadan has a very festive side, the audience always admires when a bellydancer appears with all these lights and I always use a very lively music. Saidi is a style I've started to study intensively for some time and I usually use 2 tahtibs for my shows, the audience enjoys it and is not used to it (the trend is the Lebanese cane and the Egyptian-style Saidi is more uncommon here).



What's your favorite Bellydance outfit for classes and workshops and why?
These past years, I have not been very creative with my dance class oufits. I just wore a pair of leggings, a tank top and a scarf. Now, with all the outfits available on the market I started to wear short skirts, I prefer these to the long skirts with which students cannot see my legs and understand the movement I'm teaching. I love suits a lot but they are not always practical.
Here, we're lucky to live in a hot country so I let go of all my vests and my longs sleeves (I miss my warm-up socks because I love wearing them during classes but it's often too hot to bear them).


Who's your « idol » in Oriental dance and why?
I don't know if we can talk about idols because there are so man dancers I admire (Aziza from Cairo for her pelvis, Randa Kamel for the strength and precision of her moves, Dariya Mitskevich for her technique, Vaagn Tadevosyan for the softness of his dance, Igor Ischka for his turns and grace, Tito Seif for his style… the list is long)! I stayed faithful to my three teachers (Momo, Farida and Julia) but since I live in Dubaï, it's not as easy to visit them. When I started, I was in awe of Rajaa Dussart and she's the one who gave me the desire to travel regularly and train (I was doing all kinds of workshops instead of focusing on one particular style), and this is how I decided to train with Farida Seidi and Momo Kadous.
The dancers I usually love the most for their style are the Egyptian ones, and the Russian and Ukrainian dancers for their technique and strictness of their work.