How to become a professional oriental dancer?
Your passion for oriental dance is endless, you keep asking for it hoping now to get some notoriety in this field while making a living. BellydanceDiscount.com gives you advice on important factors that should not be overlooked if you want to achieve your project.


Your different skills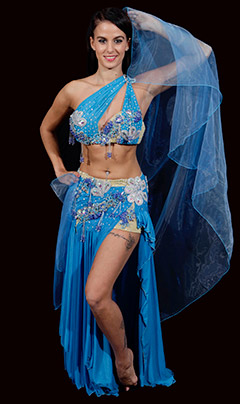 Bellydance has no specific codes or actual certified teaching. Therefore, each has some unique baggage to practice this dance. However, this discipline is far from being trivial and requires a real technique whether it is in the control of the dance or when handling some very specific accessories. (Bellydance Isis wings, oriental dance veils, dance fans, poï veil, cane for Belly dance…) It also requires some real essential theoretical knowledge to understand and transmit the essence of what Bellydancing really is. To make your dream come true, first you need to make sure that you have the advanced level necessary to practice professionally either as an event oriental dancer or as a Bellydance teacher. Do not hesitate to ask your oriental dance teacher or your experienced acquaintances in this field for advice to ensure your credibility and justify your project.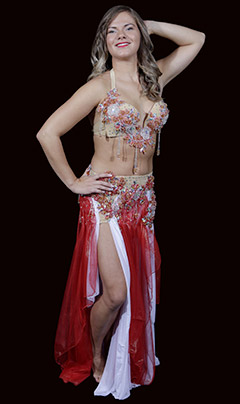 By skills, we do only mean your dance level but also the qualities required to practice professional Bellydancing. If you want to develop your oriental dancer activity in restaurants or cultural events, you will need a faculty to adapt to the diversity of places, people and specific requests that you will continuously meet, a certain dynamism to entertain, self-confidence, etc... If you're more interested in being a bellydance teacher, you will have to show patience, organization, some knowledge of the anatomy to protect your students from poor postures and of course pedagogy.



Your area of activity
You decided to get started, but before that, did you determine where and who are the other bellydancers in this area? Make sure you can find your spot. Solicit restaurants, event agencies, wedding organizers, schools, dance associations or even city halls and offer your services. Courtesy is always a must towards the dancers already there.


Your image
Skills, check! Area of activity, check! Therefore, you have everything to succeed... or almost! To sum up, you have the background and you need the shape! A little bit like a nice gift that needs to be beautifully wrapped so you'll die to open it. So you really need to take care of your image: make up, jewelry, haircut, and especially bellydance costumes and outfits. It goes without saying that you offer well-being and entertainment to the audience but also convey the dream, magic, femininity, and your presentation during your bellydance classes and especially in performance must be in phase with these. Forget the large, misshapen tracksuit worn when you teach and prefer neat close-fitting outfits combining comfort and aesthetics such as leggings, matching Bellydance top and belt, small cotton or mesh tops...
Also, go for costumes matching your ambitions by setting aside low-budget beginner costumes and preferring mid-level and high-end, well-crafted and original Bellydance costumes that are well chosen to suit your needs, morphology, complexion and themes of your choreographies.

Taking care of your image, also includes having the means to promote it. Business cards and flyers to distribute and display in different strategic locations will be a "must-have". A website summarizing your background and services illustrated with photos and demo videos, a specific email address and pages on social networks will also help you develop your business.


Your sacrifices
So, still motivated? Great because to profit from your activity as an oriental dancer either as a second job or as your main activity will require real concessions such as working evenings, the weekend, late at night, during the holidays ( New Year's Eve...) so sacrifices in your social and family life.

Time and hours of training to create your choreographies, teach or dance will be necessary and fatigue will be felt if all this comes on top of a so-called ordinary busy day already punctuated by your work, studies, or even children.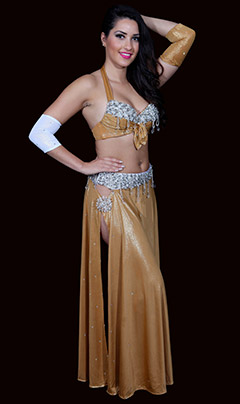 The load could be even bigger if, as a bellydance teacher, you're in charge of organizing the end of the year show and all the promotion actions, looking for affordable Bellydance costumes, rehearsal of the show for some students.

If all these steps have not scared you and only strengthened your desire, it is because you already have everything on your side. If some are food for thought, do not hesitate, let your project mature a little bit longer and develop it later. Life is always made of opportunities, whatever the time!
Comments
Comment devenir danseuse orientale professionnelle ?

By : Pascaline

On

19/01/2019

Je veux apprendre la danse orientale.comment je dois faire?

Comment devenir danseuse orientale professionnelle ?

By : Nawel

On

25/09/2018

bonjoir je viens me renseigner j aimerais savoir comment devenir une danseuse et j aimerais ouvrir une salle de danseuses orientales j aime trop cette danse et je veux savoir pour l'experience si c'est 1an ou plus