What's in my Bellydance bag? 10 things you can't forget before leaving for the show!
Who said that the life of an oriental dancer was a long and quiet river? Going in front of an audience for an end-of-the-year gala or as a professional requires a well thought organization to give your best in all circumstances and avoid stress in case of unexpected events.



1/ The Bellydance costume and accessories needed for your choreographies
Is it really necessary to mention this? Well, with everything going on in the Bellydancers' mind who, as we know, run between the Bellydance lessons, workshops, festivals, glitters they have in their head, music, sequences, steps, friends...finally it's better to be safe than sorry, we can all forget something!Because going on stage with your everyday outfit or miming a veil choreography… without veil or an Isis wings one… without Isis wings would be the worst disaster for bellydancers, we didn't feel like being responsible... So just a little reminder, just in case :-)


2/ Discreet underwear
Skin tone underwear or some the same color of your costume, bra pads, invisible bra, an opaque pair of shorties under your skirt, beige shapewear body or even a pair of leggings in color or transparent to make your legs more beautiful. Think of all these details which, if they match your Bellydance costume well, will make it beautiful and make you feel good not only in your head but also in your body once you're on stage.



3/ Stage jewelry
They're essential as they are the final touch to your Bellydance outfit. Wearing a pretty beaded bra and a beautiful skirt decorated with strass but having a bare neck, ears and wrists makes no sense. They symbolize femininity and glamor and go hand-in-hand with any stage performance as their brightness will increase under the spotlight. Jewelry set with strass, bracelet, earrings, hair ornaments, ankle chain, belly chain... Do not be afraid of overdoing it onstage so everything can be seen by your audience but also in videos and pictures of the show.


4/ Stage make-up
Glitters, glitters and more glitters, we only swear by it so do not hesitate and go for it ! Glitters on the eyelids, glittery spray for your hair or body, glittery nail polish, we use and overuse it for a look worthy of the 1001 nights ! Do not forget to widen the look of your eyes with an oriental make-up and its big black liner line. As of the lipstick, choose a lively shade that goes well with your complexion and your Bellydance costume. Finally, do not neglect your complexion nor your finger and toe nails polish.


5/ A sewing kit
A strap which comes off at the last moment, a broken fastener, strass which comes undone, that's it... panic on board! Be prepared with a small sewing kit with thread, needles, extra fasteners, some strass, glue and here you go, you can fix your Bellydance costume in no time and by staying calm in all circumstances.


6/ Hair styling equipment
It seems unthinkable to go on stage with the same hairstyle as the one you had when you woke up... So either you do your hair before your performance, or on the spot. In any case, always think of what could be useful (brush, flat or curling iron, fixing hairspray...) because there will always be last-minute touch ups for a flawless look.



7/ A bottle of water
A classic often forgotten but we always like to have it while waiting or after dancing...


8/ A camera
To make lasting memories of these magical danced moments, you wearing a Bellydance costume, your group of bellydancers, the place where you dance or just for fun, think about it!


9/ Wipes
Whether they're deodorant wipes to keep cool without the risk of staining your Bellydance costume, or stain remover wipes to clean a last minute stain on your suit, or cleansing wipes when you do a series of dance choreography and must change your makeup quickly, they all are very useful!


10/ For the professional dancers : the music on a USB key + the details of the performance
Do not fully trust the DJ or sound engineer, always have a spare key with the music of your choreographies. Technical problems often happen and it is always reassuring to have your own equipment to make sure your Bellydance show can take place whatever comes up.
Also remember to build a small file with all the useful information: address of the event, the contact name and phone number, times of appearance, the show's sequence, we never have too much info or are too organized!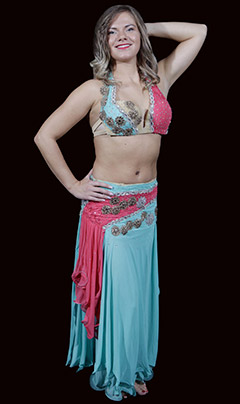 With all this, no doubt that you will need a large bag or a small suitcase on wheels to carry everything! Being well prepared and well organized for a show decreases stress, allows you to go onstage much more relaxed and brings more pleasure. We hope these tips will be useful and wish you beautiful Bellydance shows and galas.