Meet Sandra, the queen of improvisation and authenticity activist
You are a famous Oriental dance teacher and dancer in France. How was this passion born and how have you improved it over the years?

This passion was born because I grew up in the world of Oriental music. My father hosted the biggest Parisian Oriental parties in his cabaret. He was the producer of one of the biggest Egyptian bands in the 70s: the band "d'Abdel Aziz Mahmoud", my mother, singer, sang some songs of Oum Kalthoum and great Egyptian classics.

Since my childhood, I've mixed with Oriental music and dance stars. In the 80s, I regularly went to Cairo with my mother where I learned to improve my technique with the most famous choreographers like Sammy Abdelhalim, Ibrahim Akef, and others…
I studied dance and the repertories for 10 years at the Cairo Academy of Arts and Theater. Today I'm a choreographer, Master teacher of dance, and fully-qualified teacher.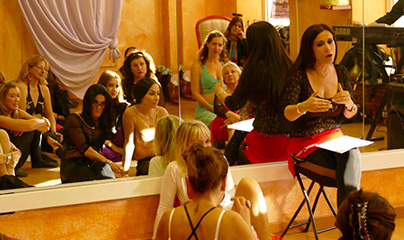 How did I improve my passion? In 1986, I created the "Méthode Sandra" based on a repertories' codification and classification, a method for teaching beginners to professionals, a method emphasizing listening to the music. Codifying dance with its interpretation rules to understand and access improvisation (vocal, instrumental, and orchestral rules), developing and handing over a method allowing professionals - future teachers to teach thanks to a constructive tool was and continues to be a real passion.

In 1996, I settled in Nice to open the Académie de Danse Orientale Côte d'Azur where I teach from a beginner to a professional level. I teach my art in all styles but I specialize in the "TARAB", another passion. Above all, I love the depth, beauty, purity of the movement and gesture, expression, emotion the body brings out when performing. I can't tolerate a technical error, the mistake in the vocal and instrumental interpretation, an arm in the wrong place, an awkward movement, a weak hip, a light pelvis...
Today and for the past 33 years, I've carried on my art with the same demand and the same PASSION.


How do you explain the success of Oriental dancing?
Success is found in all dances and disciplines and not only in Oriental dance even if I have to admit it has attracted a lot of women of different origins and backgrounds.
In my opinion Bellydance is neither a success nor a fashion… it's simply a culture, attitude, expression, emotion… somehow a lifestyle: « The way you dance reflects your personality, YOUR LIFE… »

As a teacher, I've been able to analyze the type of women who sign up to learn how to dance:
- because it's our origin, culture, the music reminds us of our grandparents, parents…
- because we're Oriental and we want to get better for the parties with family, friends…
- we want to please our husband because of a mixed marriage…
- because we discovered this dance during a party… The Oriental dancer with her undulating movements or her amazing pelvic movements makes you want to try it.
And then there are those who have nothing to do with all of these and who discovered by chance how sensual, feminine, and graceful Oriental dance is, how Bellydance gives women the opportunity to discover themselves and their bodies through its shapes and above all to "love themselves". This discipline sometimes changes their lives. We can call this SUCCESS but in fact it's LIFE…
Other than that, I have the feeling that Oriental dance is nowadays also a business through all the festivals organized worldwide and other various workshops… Social networks show Oriental dance as I never wanted to see it, a deviation in style, a deviation in interpretation... So success or not, I hope to never witness the end of Pure Egyptian Oriental Dance.


What advice could you give bellydancers when it comes to the interpretation?
I'd like to give this type of advice to all dancers: please, favor listening to the music to reach "IMPROVISATION".
As a Bellydance teacher, I try above all to hand over the rules to get there. « TO IMPROVISE IS AN ART » we could even consider improvisation as the highest degree of composition as reflection and execution are inseparably mixed with it.
The attitude of the dancer toward the present is the key in understanding improvisation.

Favor mainly the study of the «improvisation rules », an attitude of listening, presence at the moment, to being open to what's possible and unforeseen, rather than a gestural form, a staging or a composition process.
Oriental dance is « a body expression and not a body performance », more than ever we are seeing gymnastics on stage and no longer something artistic... Improvisation is a « presence at the moment and not in the moment», it's a « presentation rather than a performance ».
Dance with your heart, your soul, your ideas, your expressions, your emotions, your compositions, and not the ones from others, stop the COPY - PASTE.


You've recently created a musical, could you tell us a little bit more about this show?

In 33 years of career as an Oriental dance choreographer and dancer which have been a real source of happiness and sharing, I have always dreamed of creating a musical that would pay tribute to Egypt, the home of art in Orient, and to the 40s-50s' heyday when Cairo became the capital of show.
I wanted to pay tribute to this business woman, Ms. Badia Masabni, to these performance venues in particular the legendary hall CASINO OPERA which will experience an obvious boom through the attendance of its most famous Oriental dancers SAMIA GAMAL and TAHIYYA KARIOKKA. Oriental dancers were glorified in Egyptian cabarets and films. Having grown up in a family with a father producer of Oriental shows, and a mother singer of great Egyptian classics, I could only follow their love for Egyptian music, song, and dance.

Nourished by the musicals of Egyptian cinema golden age in the 40s and 50s, I discovered and loved the famous dancer Samia Gamal, and the Singer Farid El Attache... Samia Gamal and Farid El Attache were lovers, in love onstage and off but couldn't get married because of their difference in social class and religion. So I created a MUSICAL, an original show combining music, song, theater, dance, and choreography, entitled AHWAK (I love you).


« AHWAK » somehow tells their history, a love story and an impossible marriage not only because of their social class' difference but also by this contradictory side of the era which emphasizes that an Oriental dancer, is admired, applauded, invited to the most important event of a lifetime, and at the same time we wouldn't like her to be married to our son and be part of our family. I play the role of Samia and Farid is played by the Lebanese singer Mickael-Jamal (my partner on stage for more than 15 years).
Therefore this musical highlights this dilemma: I love you, I want to marry you, but... you will not dance anymore... Finally, the love for dance is stronger than anything! The show also tells the daily life of a group of women, dancers who are accomplices in life as well as on stage and who perform every night at the Casino Opera, managed by Ms. Badia Masabni.

Regarding the choice of music, the interpretation of this musical which keeps the essence of Oriental dancing's origin will be on music from 1920 to 2019, to express that the coexistence of this Art can travel in time and cross different musical movements.

Several pictures are depicted during this show: Samia and Farid's meeting on the beach, the hammam, when girls get ready backstage at the Cabaret Opera, Farid's solo, Samia's solo, the performance of the girls at the Casino Opera. The latter is one of my most beautiful pictures since it reproduces the scene where Samia Gamal dances with her troupe on huge Darbuka...
The bellydance costumes of the different Egyptian styles (classic, popular, folk) are represented. Most of them were designed in Ukraine and Russia.


Who is your favorite Oriental dancer? What is also your favorite song to dance to?
I don't really have a favorite bellydancer, but the ones I enjoy the most are the ones from the Egyptian Golden era: Samia Gamal, Tahiat Carioca, Naima Akef and others… I love them for their soul in dance, for their pure and true interpretation of the song and music. As you noticed, I'm a purist in my dance and teaching because the culture of this dance is above all an "ATTITUDE". I don't agree with the gymnastics of modern dance.
My favorite title is « SERET EL HOB » of OUM KALTHOUM - «THE STORY OF LOVE» Besides, all the great classics songs speak of LOVE.


What are your dreams in Oriental dance?
As for my dreams, I think I fulfilled most of them: On stage with my different productions…, Teaching with the creation of my method to reach improvisation..., my oriental dance school which has had more than 2,000 members…, traveling the world to share my knowledge…
The only dream I still have to fulfill is a concert with more than 50 musicians on stage, worldwide dancers and singers… in fact just a tribute to my father and mother…
Everything I've accomplished in my career is thanks to them... What I am today and will be tomorrow is also thanks to them, thanks to their passion and their love for Egyptian music and dance. To have passed it on to me was my most beautiful gift...