My stay in Egypt on the theme of Oriental dance
You stayed in Cairo for about a week as part of an organized tour for Oriental dancers, why did you want to go on this trip?
I love Egypt, I love Cairo, I love dance, I especially like Bellydance so going back to this ardent and exciting city with our two dance teachers and thus approaching thanks to them great Egyptian artists was a privilege not to miss.


What was the detailed day to day program of this stay in Egypt?
Day 1 : Departure from Paris airport, arrival in Cairo, discovery of the hotel.
Day 2 : Presentation of the week, Bellydance lessons: « Oriental dance general technique and posture » with Taly Hanafy, then « Sharqi sequences » with Kareem GaD – Visit with the dancer and costume designer Eman Zaki - Traditionnel Zar concert - dinner in the Zamalek district.

Day 3 : Bellydance lessons with Taly Hanafy, accompanied by Egyptian musicians – show with the most famous Bellydancer: Dina Talaat.
Day 4 : Oriental dance lessons with Kareem GaD accompanied by Egyptian musicians: Saidi theme - cruise on the Nile river in the boat Nile Maxim including a dinner and a show with Randa Kamel (the Oriental dance Egyptian queen), an Oriental orchestra, and a whirling dervish – show Aziza and her band.
Day 5 : Visit of the pyramids and Sphinx with a French speaking guide – camel ride at the foot of the pyramids – visit of El Mo'ez Street and the Al-Hakim Bi-Amr Allah mosque - visit of the Souk Khan el Khalili - whirling dervishes' show at the wakalet El Ghoury (Tanoura traditional troupe) – Outdoor dinner in a typical restaurant.

Day 6 : Visit of Cairo Egyptian Museum, with Tutankhamun's mask – Bellydance lessons with Randa Kamel followed by an exclusive interview of the star – private party at the house of the dancer Yasmina, with a typical Egyptian dinner prepared by local cooks - Oxanna Bazaeva's show – Dance party with the famous band of Safaa Farid + open stage to the attendees – performance of the Oriental dancer Sahar Samara.
Day 7 : Visit of the Citadel with the splendid mosque of Mohamed Ali – visit of the Park El Azhar. Unique moment: hearing the call to prayer of all the mosques at sunset - Dinner to discover the Kochari (typical popular Egyptian dish) - Shaabi boat Party (party on a boat to dance on Cairo's last hits).
Day 8 : Bellydance lessons with Mohamed Kazafy « Reda style special» then exclusive interview about the legacy of the great choreographer Mahmoud Reda – outing to the souk.
Day 9 : Departure from Cairo airport to go back to Paris.


Which discoveries (artistic, touristic, cultural, social, dance, culinary...) dazzled you the most and why?
The Zar concert. The discovery of this art, the singers and musicians' authenticity and intensity transport one in another sphere. As this was my 14th trip to Egypt, I cannot speak in this trip of discovery regarding the At-Tannoura au wakalat El Ghouri troupe but every time, I am amazed by their performance. And finally, how can I not to mention the performances of the bellydancers Dina Talaat and Randa Kamel! And the call to prayer from the top of the Al Azhar park. And Cairo's streets, so lively. And the population so welcoming...


What surprised you the most and why?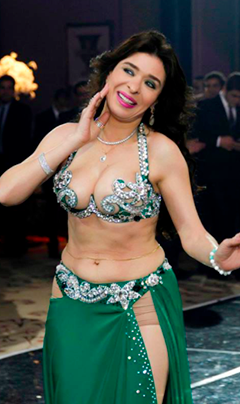 The Zar's concert, I've never seen before this kind of performance. The intensity that emerges from it leaves one speechless.


Did being immersed in the cradle of Oriental dance by attending workshops in Cairo, especially by meeting star dancers and immersing yourself in the cabarets' atmosphere change how you look Bellydance? Why?
Yes, because we can then measure the love Egyptians have for music, their dancers and musicians' talent and the huge cultural wealth of this country.


What did you gain from this trip overall and as a Bellydancer?
It gave me the desire to progress in Oriental dance, to measure up a little bit more in this art. This trip also filled me with admiration for these women who brave all kinds of difficulties to do what they love. And from a general point of view, a strengthening of the affection I have for this population always smiling and full of life despite the daily difficulties.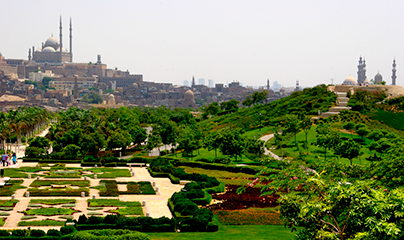 Thanks to Annick for answering our questions.
She went on a package tour with Taly Hanafy and Kareem GaD of the Bell'Masry company and the price range (flight + hotel + meals + dance lessons + visits) between €1,200 and €1,500.
Other trusted and serious Bellydance teachers we recommend as well and who organize regularly this kind of trips are, for example, Yaël Zarca and the Sultana association, as well as Gemma Mellouk of the Mille et une nuits company (Trip combining Oriental dance and visits but in Morocco – Essaouira).


Our advice: For your immersion trip, choose package tour organized by a bellydance dance teacher who knows perfectly the local customs and special places related to Oriental dance in Egypt or the visited country.
Also check the safety measures planned for the group, especially when traveling.

Finally, a rich dance and cultural program will add value to your trip.
In any case, don't hesitate to live fully this unique experience for an Oriental dancer who, apart from dance and discoveries, can forge incredible links with a community of people sharing the same passion for Bellydance.