Reconciling a Bellydancer's life and a mother's life
Thanks to Kaouther for answering with sincerity and emotion to our interview, and sharing like this her love for her baby and Bellydance.
You're a well-known international Oriental dancer and teacher but also a young mother, how did you live your pregnancy while carrying on your occupation?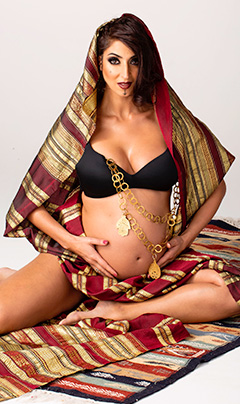 My pregnancy went very well. I danced and carried out all of my Parisian lessons up to the day before delivery. What an adventure!
Concerning the stage, I honored all my trips abroad up to 6 months of pregnancy. I danced pregnant on stage in Switzerland, Spain, China, and Malaysia. Of course , it is a physiological and psychic adventure which differs from one woman to another so I am aware today that I am grateful to my body for allowing me to live all these unforgettable adventures and dance on stage on the other side of the world with my baby. Malaysia was the last performance before delivering, and being 6 months pregnant, the long flights, hotels, jet lags, workshops to carry out, competitions to judge, staying up late, waking up early, started to be burdensome and I wanted to be calm for the end of my pregnancy.

So my Parisian students and their bellydance show became my priority. They were adorable and so kind. I was really helped by my assistants when I started to be very pregnant and I am very grateful to them. So I could sometimes sit in class like the old masters with a stick and have an assistant rehearse the exercise I had just taught. I was off after delivering for 10 days. Each assistant knew the work I had left them to do for each class and different levels. In addition, I was lucky to have been well pampered by my darling throughout my pregnancy, it means a lot!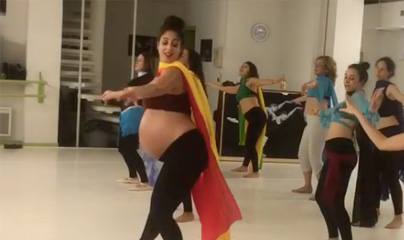 When I came back, the girls flooded me with love and we were ready to continue the work to go on stage together at the annual gala. An edition etched in my memory forever. Teamwork, kindness, shared passion, this little baby who became a mascot for the girls since they had shared the whole pregnancy with me, they were delighted to meet her.
Dancing in front of my baby on stage, to the same music it had known and danced inside me is an unforgettable memory.
Did the baby's arrival lead you to make concessions in the field of Bellydance?
It compelled me to stop the stage and trips, so cancel international contracts which were signed a long time ago. But all sponsors were great and understanding.
Priorities are clearer and we are less polluted by the nonsense of our job.
Being self-employed in France also makes you realize the loss of earnings that a pregnancy represents. You must be well-organized during this period. Being self-employed has advantages and constraints that we also discover at that time.
Conversely, did this event provoke new opportunities, from a professional point of view (developed artistic sense following this new role as a mom…) and personal (exchanges with baby around Oriental dance…)?
It is true that hormones and / or this feeling of turning into a being that will never be the same again gives you a unique sensitivity. The woman mutates into a new person. We discover ourselves differently. It's not only the body which changes. This gradual physical and psychological transformation makes you discover yourself differently: We are no longer quite the same and do not become someone else ... I remember a hypersensitive feeling on some creations and music. The artistic sense is developed because we are going through a very strong inner adventure. Sleeping facets reveal themselves, our feminine being evolves, we become a mother, and therefore responsible for a life forever.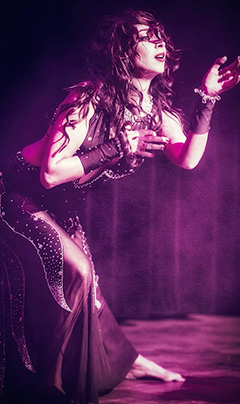 At first, the exchange as a mother is not so easy with a newborn baby. It is also built daily. We sometimes wonder: "Where is the exchange with a newborn who spend its time sleeping, nursing, soiling its diapers?" I don't know about other artist moms, but real complicity sets in with baby when you least expect it. One of the most memorable memories right after the delivery was to see my few-week-old baby wake up, smile and wriggle with joy when I press "play" on a music I was working pregnant and I'd loved it throughout my pregnancy. I felt like she recognized it and wanted to tell me! Her eyes were filled with joy. Wow, I love this memory!
Another path that I did not suspect, is to be asked by the medical profession (midwives, pediatricians, gynecologists) to develop courses for pregnant women and set up exercises to prepare for childbirth in hospitals.

Can you tell us about your background as an oriental dancer and teacher?
I went to my first dance lesson in London. I lived in England where I did all my studies at the university. When I came back to Paris, I started with Gemma then with Mayodi. The latter is the one who pushed me to really work on my dance, to become a dancer. He made me join his professional ballet troupe and so propelled me on stage. After a few years, I wanted to widen my training by taking lessons with other masters. My thirst to learn, to go further in my knowledge and have my own universe made me travel and experience key meetings. In Egypt with tons of private lessons, in New York with Mr Yousry Sharif's intensive courses (a master I followed everywhere for 10 years) and then all these training workshops which were organized in France or in bordering countries. I got involved at 100%. Festivals were not trendy like today, dancers spent lots of time in training workshops, hours in a studio over several days. The exchanges were rich, the time longer to really enter the technical and artistic world of one single teacher. I also wanted to work on what I was lacking: the body work. The Yoga, floor barre, and Pilates were a revelation for the posture, alignment, breathing, movement fluidity, internal bodybuilding. It's Djamila Henni Chebra who made me realize how important this extra work was. Moreover, this is where personal work plays an essential role. Spending hours training to clean up your technique, building your universe step by step, your musical repertoire...
Then one day your work becomes known and recognized without you really noticing, it crosses borders and you tell yourself, "I believe I didn't make a mistake choosing my job ".
When it comes to teaching Oriental dance, I wasn't really attracted to this. In my opinion teaching, it was waiting to be older, a career behind to offer it to students. The dancer Shéhrazad Bouteldja urged me to try. She advised me to accept a vacant teaching position which would allow me to finance my training and also grow. She was right. It was an eye-opener. What a pleasure to share your passion! It also allowed me to progress because when we teach, we have to also clean up our dance to teach it as correctly as possible and we constantly have to look for new things. My students made me grow and prepared me to teach my world abroad. When we are invited to provincial tours or abroad, our work must be well established. For international sponsors, we represent significant financial investments; we must be perfect, professional, up to par because they have high expectations. Especially because, on the other side of the world like for example in Japan; dancers are very demanding and attentive to the smallest details.
In your opinion, what should a Bellydancer have to stand out?
A world. Be obsessed. Of course the mastery, technical richness, the stage presence are essential to be able to perform on stage, however what matters most to me is to be able to pass on emotions. An emotion in the audience results from a performance, sharing is created and this makes the difference. The more intense the emotions, the more the audience receives, the show is on the rise and leaves it mark on the spectator.
How do you manage your stage fright before going on stage during your Bellydance performances?
At the beginning of my career, I often isolated myself to focus on myself and remember why I dance. Over the years, stage fright is still here but breathing exercises help enormously. We prepare our body, warm up then the mindset sets in. If behind the curtain I start to doubt, I try to tell myself that the audience is here to have a good time and it is my job to give it to them. So I focus on being as honest and sincere as possible with them. I tell myself, "Ok, I will do my best so you'll have as many emotions as this art gives me". It's all about sharing: Keep nothing to yourself once in the spotlight, lay yourself bare without barriers or a mask.
What do you like to wear during your Bellydance lessons and what do you advise our customers?
I like to be quite sober and see refined bodies. Thus I can correct the movements better and see the body's mechanisms. Natural cotton materials are the most suitable for me. Leggings, a small top and of course highlight the hips with a thin Bellydance belt in strass or a classic Oriental dance belt in colored fabric. Today there are a lot of clothes to practice Bellydance on specialized websites and there are pretty nice, light, and well cut pieces. The students can really have fun these days and the teachers too!
Pictures : De Margaux Rodrigues, Laurent Qy, Joudi M Joudi, Eddy Lamazzi