Oriental dance facing illness: Apolline's remarkable fight
Bellydancer and talented teacher, we also know you have multiple sclerosis. How do you manage on a daily basis these activities and this illness with such courage and determination?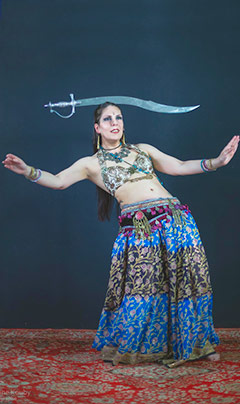 Multiple sclerosis is an autoimmune disease: the antibodies attack the nerves' myelin sheath in the brain and spinal cord causing major dysfunctions - the image of the person in a wheelchair is a specter that threatens me. It was diagnosed 16 years ago although minor symptoms were already present years before without us knowing what they were. My daily symptoms are exhaustion (from the disease and treatment), permanent pain, dizziness, vision problems, loss of sensation in the toes... increasing over time and after each outbreak (attacks); this happens to me about once a year. All these symptoms are invisible but terribly burdensome and increasingly disabling; the only way to avoid as much as possible the lack of understanding of your close ones or colleagues is to talk about it as freely as possible. If I'm exhausted, it's not a playact: fatigue can make me cry after the "effort" of getting up and showering.
My multiple sclerosis was diagnosed in November 2004 when I was just starting my career as a dancer and giving Bellydance lessons. The disease seemed to have kicked the legs out from under me and the prognosis was very bad: the doctors told me that I could no longer dance. After almost 3 years without dancing, the disease seemed to be less aggressive and, for my mother's birthday, I organized an oriental dinner where I danced for her. It was a revelation: dancing brought me energy, happiness, and seemed to erase pain and exhaustion (just while on stage but it was already wonderful!). I have been giving dance lessons and workshops and performing on stage for 12 years now.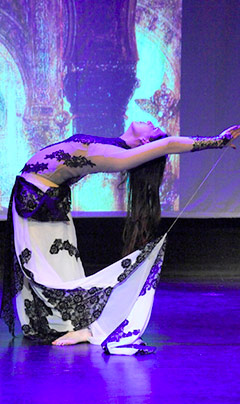 The fact is that dancing rehabilitates me: as I suffer a lot and there are many random disabilities with this pathology, I have to listen to my body. Thus, I have been able to understand the movements better and so explain them to my students better. Of course it is not easy everyday and, sometimes, living is a nightmare because I have to reclaim my body after each outbreak... but with dancing I can get up, go beyond the limits that my health tries to impose on me, and feel complete again.
I'll add that the virtue of dancing works for all trauma. Almost 2 years ago, I was the victim of a rape and it is also thanks to dance that I managed to find myself and surpass this ordeal.
Dance, like art in general, brings beauty back to life, especially when this one can be so hard.
Your activity as a dancer also helps you in raising people's awareness of this disease with dance events that you organize regularly. Can you tell us more?
In 2013, a bit on a whim to tell you the truth, I decided to organize almost alone my first show without any structure, for charitable purposes, for the benefit of the Lorsep association. This network of information and help for people with multiple sclerosis (MS) in Lorraine gave me a lot and I wanted to do something to thank its entire team. So the show "Dance to fight MS" was born. Presenting the work done with my students, the one of artists I respect and mine as a soloist was a way to show my recognition but also that the disease was not a fatality and that we could accomplish great and beautiful things in spite of it. This allowed me to give some information on multiple sclerosis, raise awareness on these often violent but invisible symptoms and give, I hope, a little hope to people and those close to them.
Since last year, the show has been organized for the benefit of associations providing assistance to victims of sexual violence and its name changed to "Dance to fight evil". The goal stays the same: inform, raise awareness, surpass suffering, and make dreams come true.
Currently, it's a team of more than 20 volunteers who work with me on the creation and implementation of this annual show. My sound engineer Jhon BlackFire, my lighting engineer Max Bronner, and Roxane Kouby at the technique, among other skills, supports me in order to make this event richer, more beautiful and original. If this year's session had to be canceled due to the health context, we therefore have 1 more year to make it a wonder in September 2021!
History is also one of your passions. How do you associate your knowledge of this subject with oriental dance during the Bellydance lessons and workshops you give?
I am also a historian of art, mythologies, and Middle Eastern dances and I give lessons and lectures on mythology and Babylonian-Assyrian. I've always been fascinated by the beliefs, art forms, and ancient civilizations. In my opinion, a dance is the heritage of the civilization(s) that gave birth to it and made it evolve. So, when I teach oriental dances (sharqi, baladi, saïdi, shaabi…), Gypsy (flamenco, kalbliya or kawliya), ATS and tribal fusion, I explain to my students the context they are danced in, by whom, the appearance and costume's importance, the meaning of some gestures... It seems very important to me to know the origins and contexts of the art we teach. My students really appreciate this aspect of my pedagogy, it allows them, I think, to understand these dances better and therefore express them better.
Moreover, I sometimes suggest dance themes from mythology or other legendary stories: before anything I tell them the story or myths where the characters or fantastic creatures appear and describe their appearance, character, where they were born, and what they symbolize. So, the work of expressiveness is more successful, sensitive, and playful!
What is your background in the world of dance?
It's at the age of 12 that I discovered oriental dance thanks to my mother who started to take lessons in our small city of Epinal. The teacher, Seghera, taught me everything about the sharqi and the traditional Moroccan and Algerian dancers. Very soon, my mother and I were adopted by the family of this wonderful dancer and were lucky to be invited to Maghreb weddings and other celebrations in the region and also learn to dance with the women of this community. I was immediately won over by the variety of movements, atmosphere, costumes, and oriental warmth.
Later, when I left to study art history and religions in Nancy, I kept on learning mostly the sharqi then the baladi and saïdi through some lessons and workshops. When I took the decision to make it one of my jobs, I became interested in the tribal fusion style that was starting to be known in France and therefore in ATS and then in gypsy dances. So I kept on training in several workshops especially during the Bellyfusions Festival where I met and learn with great dancers like Samantha Emanuel, Meher Malik, Ilan Rivière, Francesca Pedretti to name a few. 

I've been able to give lessons not only in oriental dances but also ATS, tribal fusion and Gypsy dance. More recently, I've been able to keep on training with Deb Rubin or Kami Liddle notably or, Assala Ibrahim, who introduced me to the raqs el kawliya, an Iraqi gypsy dance I fell in love with.
At the same time, I created my first company, the "Bohemian Spells" (2011-2016) dedicated to ATS, then the "Apsaras" (2016-2018), a tribal fusion trio. If I had to put the work of company director on hold, it's because I've just created my teaching structure, the Museion, where I teach everything I have the chance to know in dances as well as in the arts and civilizations' history: this achievement takes a lot of time and energy but the project is worth it! I hope I'll be able to found a new company soon because I must admit I miss it and have tons of ideas.
In addition, I've started to learn the Polynesian dance and aerial hoop.
And I hope I'll be able to discover many more dances in the years to come!
Which oriental dance styles or fusions do you prefer and why?
I admit to love the baladi and sharqi which are my first loves. We cannot break a story which has been going on for 30 years now! Samia Gamal's style follows me and still inspires me by its sobriety and elegance. And I fell in love with the raqs el kawliya, a dance of joy, sparkling and liberating that must be preserved especially as its community is in danger.
This being said, the tribal fusion suits me enormously because of the freedom it offers in the creative process: it is a dance still being developed but with a strict and impeccable technique, it allows to fully let go of the imagination and its implementation! Each scene is a discovery.
But, I admit that my preferences are fluctuating because all it takes it's for some music to grab my heart and the dance associated with it will be "my favorite" until its creation on stage... It's been recently the case with a very nice version of "La Llorona", a traditional Mexican song, who prompted me to create a gypsy dance scene on the theme of the Sunflower, a nymph in love with the sun which pushed her away and who laments looking at him. What does Bellydance evoke or symbolize for you? And what does it bring you?
Personally, oriental dances, in addition to personifying a beautiful picture of Femininity, are above all Resilience, Strength, and Sharing. It gives me self-confidence, joy, a break from illness and hardship. It makes me an artist, princess, and a warrior and helps me to know where I'm going; it rebuilds me and helps me to live.
What are your future projects when it come to Bellydance?
My first project for the future is to always being able to dance despite the illness. It's also about continuing to train, progress, discover, and keep on developing my own tribal fusion style.
The creation of shows with various collaborations is also on the program with contemporary dance duos with one of my friends and colleagues from the Ballet de Lorraine for example, or charity shows, and other very original scenes, notably on dreamlike and mythological themes in collaboration with my lighting engineer and dancers like Francesca Pedretti.
I also wish to continue my research work on the History of Middle Eastern dance, a comparative study based on iconography from the Antiquity to nowadays.
Last year, I was approached by the International D
ance Council (CID_UNESCO) to be part of the association which will allow me to set up training courses aimed at awarding international dance diplomas. I think it'll take 2 years to set it up, but I really care about it.
Finally, I'd like to organize a colloquium, in Nancy where I live, on the history of dancers through the ages and civilizations, round-table discussions with initiations and dance workshops, and closed with a show bringing together as many dance styles as possible. Bellydance in all its forms would obviously be in the spotlight.