Oriental dance, a family affair…
Thanks to Yzza, dancer and teacher for sharing her journey and favorites when it comes to Bellydance.
You practice oriental dance and your 2 sisters as well. Could you share your experience with us? What is the origin of this collective and almost "genetic" love at first sight? What do you enjoy so much in Bellydance? And what does oriental dance bring you? 
I was the first of the 3 sisters to start oriental dance, but not the first one of the family... Dancing comes from our mother. She herself practiced professionally and taught the dances of Maghreb, before starting oriental dance as a leisure years later. One evening, I went with her to the course in which she was enrolled, it was my first contact with Bellydance. The following year, still driven by my mother, I joined her class; I was then 13-14 years old (20 years ago!). I attended my oriental dance lessons in St-Etienne: one year with Djamila D., 2 years with Myriama, then I joined Farida Seidi's classes for 3 years. At the same time, I enriched my training with many workshops taken with international masters invited then by my oriental dance teacher, and at 17 I went to Egypt for the first time.
Meanwhile, my first sister Mélia, had also started Bellydance, and years later my youngest sister Léna started as well by being a student in my classes even though she was only 6 years old!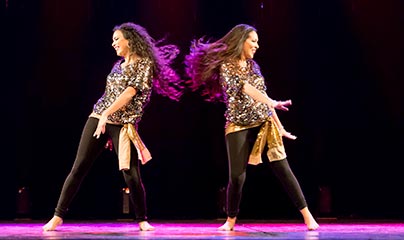 It's awesome to be able to dance with your family, my sister Mélia and I opened Studio Yzélia in St-Etienne and created our oriental dance company which has the same name. Our mom manages the administrative aspects, creates dozens of Bellydance costumes and has given us unwavering support since the beginning. My sister Léna has continued to attend our courses for all these years and is very active in our company.
In addition to our family activities I also developed my solo Bellydance lessons in Lyon and today, Mélia teaches alone in our studio.
What I like in oriental dance is the styles' variety. Oriental dances are so rich and varied, it's impossible to get bored! I like being able to multiply the interpretations' possibilities: sometimes terrestrial on a Baladi, sometimes aerial on a Sharki, or even playful with a melaya...
Bellydance brings me an inexhaustible means of expression, a way to express my choreographic creativity thanks also to the Yzélia Company, and, of course, lots of happiness!
Despite my 2nd job (social psychologist), I could not live without it and reconcile my two activities is just obvious.
You have a strong international experience in Canada. How did this opportunity come to you? What did it bring you? Is Bellydance seen and practiced similarly in Canada or are there significant differences?
Initially, I went to Canada for my psychology studies, as part of a one-year student exchange. While I had just arrived in Toronto, determined to continue learning oriental dance, I enrolled in classes at the Arabesque Academy. After only 2 or 3 weeks there, the academy's director offered me to audition for her professional company. Luckily a casting had been organized just after my arrival! This is how I joined the Arabesque Dance Company, before also joining the school as an oriental dance teacher a few weeks later.
It was a very intense year; I took several classes per week, taught, rehearsed with the company and multiplied the stages in Toronto and elsewhere in Canada, while studying. Unfortunately, after a year I had to go back to France and back to my university in Lyon, but a few months later, too nostalgic of this life, I went back there for almost 2 years, putting my studies on hold. It was an extraordinary experience where I learn a lot and I consider this to be decisive in my life as an oriental dancer and teacher.
Yasmina Ramzy is an unparalleled choreographer who made my dance richer.
Also, I noticed that oriental dances were more valued in Canada than they were in France; they hold a real place among other dances, as well in mentalities as in the great theaters. For example, Arabesque's work was subsidized by the Ontario Arts Council, something that we've never seen here! Another example: we performed our show 5 times a week, and a non-expert audience was there for each performance!
As a qualified Bellydance teacher, what are for you the discipline's main criteria for a good pedagogy and a qualitative teaching?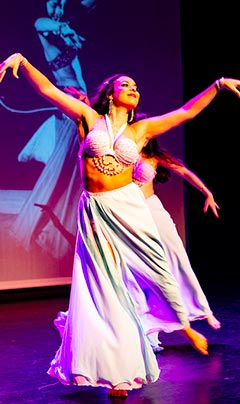 I think that first you must be able to put yourself in the students' shoes, be attentive and listen to adjust your pedagogy according to their needs and possible difficulties. I try to be flexible in my oriental dance's teaching to accompany each student; some are more visual, while others prefer detailed explanations, it is essential to be able to identify how to make each person progress. In my opinion, technique is essential, I make it a real point of honor, I am a perfectionist in life and I think that it also shows in my teaching. That said, it is just as important to make people discover the richness of oriental dances, pass on the different styles that make it up, and push the students to develop their interpretation.
To provide an education of quality, it is also important to keep on training yourself, take other dancers' knowledge and creativity so you'll always give the best to your students.
Finally, as a Bellydance teacher, I think my role is also to create a favorable and positive environment so the girls will feel good there. In my opinion, it is also a criterion that makes teaching qualitative, the atmosphere acts on the pleasure we have in coming to class, it impacts motivation and therefore learning.
What do you think makes a belly dancer (professional or not) skilled in her art during performances?
I would be captivated by an oriental dancer who has presence, who is expressive and communicates with her audience. Obviously, a very good technique is also important, it is the basis, but a perfect technique on a dancer with an expressionless face will not be enough to seduce me.
Something that also matters a lot is a good knowledge of the music and the style the dancer presents, you cannot dance a Sharki the same way as a Saïdi, or a great classic the same way as a Shaabi! The interpretation and posture will make the difference.
In your opinion, is a male oriental dancer just as pleasant to watch as a female belly dancer? Which male oriental dancer do you admire and why?
It depends, generally for men; I am more sensitive to the interpretation of folklore, and particularly the Saïdi. One of my best memories of a show is a crazy Saïdi performed by 5 great Egyptian dancers in Cairo a few years ago, at the Raqs festival of course. It gathered Tito, Mohamed Shahin, Wael Mansour, Gamal et Khaled Seif, accompanied by an orchestra. The energy and pleasure that came from it were amazing!
It happens that I also appreciate the oriental interpreted by men, I think in particular of David Abraham whom I admire for his fluidity, Ihlan for the French, and my favorite dancer among men is the Egyptian Tito! I love his technique, style, performance... and his gorgeous galabeyas! I also like Kareem Gad a lot; he's an excellent dancer and very creative in his choreography. 
If you had to name three titles of your Bellydance Playlist, which one would they be and why?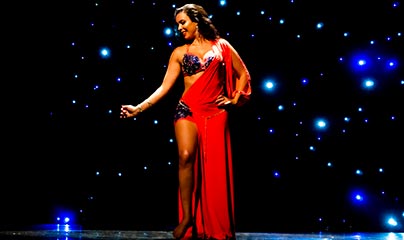 "Inta omri" of Oum Kelthoum is my all time favorite, I find it very touching. 
I could also name "3ala babi wa2ef amaren" of Melhem Barakat whom I've loved for years for its catchy melody, almost heady but in a positive way.
And for a title a little bit more pop, I love the piece "Bel sodfa" of Nancy Ajram, I find the accompaniment very beautiful.
Have you practiced other dances other than oriental dance? If yes, what other dances do you like and why?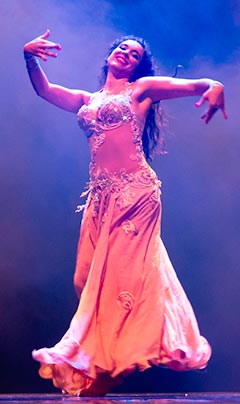 Yes, I practiced a lot of other dance styles! I started with classical at the conservatory when I was 6 years old (I also played the piano, learned music theory, and sang in a choir), then contemporary as a child also.
When I was a schoolgirl I tried my hand at rock, then African dance, and modernjazz.
As a high school student, I was fully devoted to Bellydance, then in my student life I tried hip hop (it was not a success!) and salsa which I carried on for several years in Lyon and Canada.
Later simultaneously with salsa, I also practiced ChaCha for 2 years, and more recently a bit of ragga dancehall.
I've liked all these dances and believe each one gave me a little something. For example, my years at the conservatory brought me rigor, African dance a lot of pleasure and relaxation, and I must say that the dances to which I've been most sensitive to apart from the oriental one are the Latin dances, in particular for the rich footwork but also for the music of course!