Bellydancer and… performer with LEDs !
Thanks to Shamay, a talented multidisciplinary artist, for answering to our interview rich in information and discoveries.
You are an oriental dancer and performer with LEDs, which illuminated accessories do you use during your performances?
I handle many light up apparatuses : Hula hoops, buuggengs, fans and pois. Moreover, in my company we use all kinds of luminous costumes and fabrics because I find that this gives a very poetic and magical aspect to the show.

The Hula hoop is my favorite toy, it is the only one that I never get tired of; there are so many possibilities in its practice. It fits in a lot of different universes and styles and the search for new tricks/working on its flow is boundless. But it is not my favorite apparatus for Bellydancing because I find that oriental dance and Bellydance costumes do not allow to work enough with the "On-Body" (on the body) and on the feet hoop. For example, you cannot perform too many hips/chest/belly movements characteristic of oriental dance with a hoop on the body but rather on the neck and knees for a result which, in my opinion, is not the best.

Moreover today, my new passion in Hoop is more about the Floorwork and for this type of performance, several visual aspects characteristic of Bellydance such as the long skirt, the loose hair, or even the jewelry make its practice almost impossible.
However, there are a lot of "Off-body" movements (outside the body) which go wonderfully with oriental dance and can really help in creating a enchanting number! By the way I also have a very nice one that I haven't performed for a long time.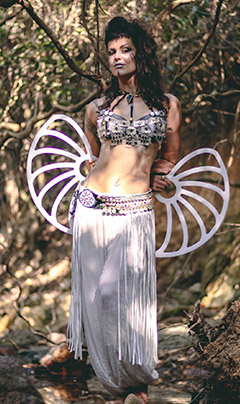 For me the Buuggengs are the most suitable apparatuses for Bellydance/the calm, powerful, and throbbing tribal. These hypnotic apparatuses look like S which spin and intertwine. It is a somewhat rarer instrument in the Flowart's domain (= modern juggling of objects which turn and put in a meditative state) and it requires a lot of work and precision, but the rendering is incredible. I also love these objects because I developed numbers where I work with balancing them on my head just like the saber.
The illuminated spin fans as well as the pois are also great for oriental dance as they are only manipulated by the hands and therefore the rest of the body is available for all kinds of shimmies, undulations, and vibrations. I have been practicing these apparatuses with fire forever and I was delighted to discover luminous models prettier and more reliable over the years.
How and when did you learn to handle these illuminated accessories? How do you go about creating numbers?
I started to learn by myself with the oldest apparatus 15 years ago since I started pois/bolas... in high school! If I had known back then that I would make it my living!

At that time, there was no lesson to learn how to handle these accessories and even less YouTube or Instagram to train! So I started alone with a video found on a website and then I met a lot of people who shared this passion for fire and we got together regularly to practice and exchange. At the beginning, there weren't any LEDs in my apparatuses, this came later with the indoor show. Now we are some of the few people who teach this in Paris. My company "Hanabi Circus" regularly offers handling training courses.
To create my numbers, I am, first of all, inspired by music. I spend time researching and discovering sound and when a song particularly touches me, it is often the creation's driving force and starting point and a working environment.
I train a lot, in circus, dance and especially flexibility every day. The handling work requires as many hours as oriental dancing (and a lot of mental fatigue!) especially when you want to push the practice to a high technical level. It is also possible to learn simple movements quite quickly and be able to brighten up your dance in a very pretty way, but it all depends on the desired result: whether you want to put more emphasis on the dance or the handling.
Personally I try to push both ! I train a lot and yet I often have the feeling of running out of time and leaving one of my disciplines aside.
What type of Bellydance costume do you recommend wearing with the use of a luminous accessory?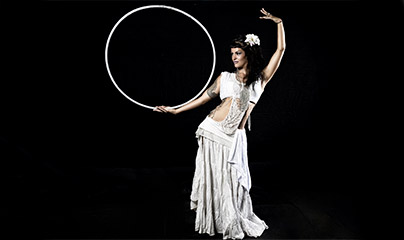 To handle illuminated objects, I think it is very important to avoid fabrics and jewelry which "hang", they can too easily get caught in the apparatuses (long necklaces, bracelets/half-sleeves with long veils on the arms).
You also need to check that it fits over the head if you wear a headdress. The higher your headdress, the more unpleasant surprises you may have, and this could be a handicap (that's why it is always interesting to rehearse your choreography with your stage costume!).
To sum up, it is clear that the simpler the dance costume, the easier the handling.
When it comes to materials, LEDs performers often wear white because it spreads the light well and it's very pretty. But I think all colors can showcase LEDs nicely and vice versa. Strass, sequins, and shiny jewelry will, of course, bring a beautiful and very sparkling finish.
For what kind of events do we ask for your performances with LEDs?
For all kinds of events as long as it is nighttime or when we can cut out any form of white light: Cabarets, Clubs, Dinner Shows, Weddings, Shootings, Street shows...
Moreover, fire is prohibited in many performance halls, or difficult to negotiate even with the presence of an SSIAP (Fire Safety and Assistance Service) so then, the luminous show can be a good compromise.
Have you ever had a technical problem in the middle of a performance due to the electrical nature of these accessories?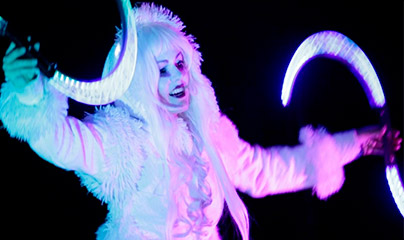 The main problem with LEDs is the cold, batteries are better with the new models but just like the ones in your phones, batteries do not like low temperatures!
It happened to me with my company when we were in the mountains and it was an awkward moment on stage, we can only keep on dancing giving the best of ourselves and discreetly put down the apparatus! But of course, it was not an oriental dance performance: you can hardly imagine a dancer in a Bellydance costume showing some skin on a snow front when it is -15 degrees!
Therefore, it is important to take great care of your luminous equipment. When not performing, remove the batteries and if they are rechargeable batteries, do not allow them to run flat for too long.
In your opinion how is a Bellydance performance associated with the use of luminous accessories interesting for an oriental dancer?
I think it is very interesting for a Bellydancer because in addition to adding a string to her bow, it will have her master several techniques at the same time and so enrich her show (of course if that does not become a camouflage, as can sometimes be a very beautiful stage costume…).
What is your experience as an oriental dancer?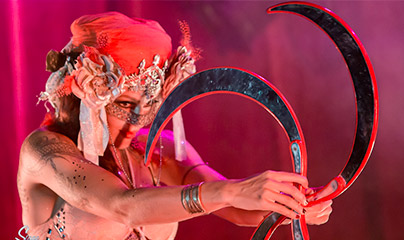 I must admit that I don't really see myself as a belly dancer: I did a first year with Kamellia (Korean Bellydancer) then I went straight to Tribal Fusion and ATS. I practiced several years with Julie de St Blanca, Anasma and Linda Faoro. Fusion was my addiction and passion, I was right away attracted by this original interpretation of the oriental which matches much more my electronic musical world! I loved even more the idea of being able to mix styles with the hiphop and other kinds of expression.
However, I have taken up oriental dance lessons with Rachida Jorf at the Harmonic studio and I would love to do advanced level solo drum workshops with goddesses like Sadie Marquardt. I love and always will love Bellydance and Tribal Fusion because in my opinion, there is nothing which represents the feminine sacred and women's power better. I also like the so precious relationship with the body it brings : knowing how to make each part of your body vibrate separately on several different layers, it's a kind of a superpower! A control and listening of your body which are in my eyes so important for the well-being. Besides, the intestine is the 2nd brain of the human being, so it is great being able to take care of yourself with this dance; it gives a massage to the organs! Additionally, the dancers who inspire me the most nowadays are Michelle Sorensen and Olga Meos.
Apart from the oriental dance and LED performances, what other artistic skills do you offer during your stage performances?
Originally, I have been a fire dancer and pyrotechnic artist since 2008, so that's why people call me in the first place. Then LEDs arrived to compensate for the lack of being able to use fire in some venues, then it became a real artistic commitment in some creations.
I also practice a lot of yoga, flexibility, balance, aerial hoop and I attend lots of other dance classes every year such as waacking (African-American type of street dance), modern 'jazz... Slowly I try to mix all of this in my numbers. But in my opinion, it can be a dangerous process because we cannot scatter too much, otherwise we may neglect some disciplines. It is difficult to be good at everything! 
Which item on sale in our Bellydance and performance shop in our "World of LED and lights" section would you be tempted by for a future number?
Without any hesitation I'd take the white light up umbrella!
First because it is very pretty, but also because I find that it is an accessory very easy to use and which allows great freedom of movements. No need to spend hours working on geometric movements sequences with very parallel outlines, you can immediately liven up your show in a very poetic way just by making it move as you see fit (for example in the world of Christmas shows, luminous costumes and accessories are perfect).