Meeting with Maläyka, a bewitching Bellydancer
Her favorites, her opinions on Bellydancing but also her extraordinary experience on the television show "France's got talent", Maläyka talks without taboo during our interview and it is simply... fascinating!


In 2015, you were selected to participate in the show "France's got talent", can you tell us about this extraordinary experience?
The production contacted me one day and offered me to participate to the show. They had seen my videos and enjoyed my work. Among others an Isis wings / veil dance performed by my troupe during the finale of my bellydance Festival had caught their attention.
So I accepted to play the game and meet their expectations: start with this choreography by mixing percussion if possible and also introduce myself as a soloist then surprise them with the entrance of the dancers' troupe.

The application would have come from myself I would probably have done something different with more artistic research but I like challenges and it was aligned with my work, so I accepted. The first obstacle was the very short time to send our dance video that would be performed during the show! Some of my former bellydancers did not want to participate, so we had to create a team, find a rehearsal room, and come up with a choreography based on the previous one... all in a record time! They came to meet us in Poitiers (where I lived at the time) to shoot our dance and we play the game of mini-scenes and interviews for the show.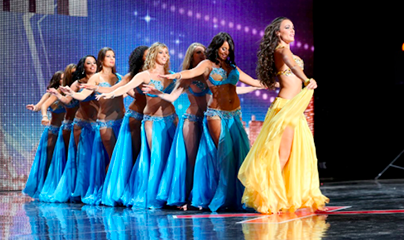 On D-day, I was very tired because I had been hospitalized shortly before (we by the way see my hollow face on the video!) The conditions were not optimal but fortunately, the girls were well prepared and did a great job!
Of course we were stressed and I knew we were representing Oriental dance like every time there are some on TV.
But everyone enjoyed discovering backstage and presenting our work.

The jury was mixed and unfortunately not very clear on why we were eliminated. It started with a nice compliment of Eric Antoine "You are nymphs, inspiring, I admire your talent", it was yes, no, yes and finally no! Of course we were disappointed but it is part of the game. I think that today we all have a nice memory of it!
It did not have an impact on my career. The only contract following our performance was our participation in another TV show with Cyril Hanouna.


What qualities do you need to become a great Oriental dancer and why?
The perfect recipe would be: technical work + emotion + sincerity!
Of course you need rigor: know the bellydance moves, master them, gain subtlety, build a vocabulary, think of all the little details, and be interested in the history of our dance and all the culture surrounding it… The mastered technique will be the basis to carry emotion. It is therefore essential not to stop there! You have to go on stage to give something. And being sincere is I think the most beautiful thing we can offer! Use the great bellydancers to learn, but do not imitate; be yourself. Use all the work done before to be 100% on stage.
Sharing works then: the dancer gives to the audience and in return, will gain ultimate happiness!


What are your 10 favorite tracks on your Bellydance playlist?
I spend a lot of time selecting my music: the dance being its translation, its choice is primordial! I pay attention to the choice of orchestration, it allows rediscovering music already heard and sets a very specific atmosphere. My favorite ones in classes and performances are:
• Zina - Babylone > Perfect to start and warm-up
• Alf Leila we Leila – Oum Kalsoum > A classic, I'm never tired of it! And with so many different orchestrations!
• Habibi Ya eini –  Tony Mouzayek > I love this version, a "must-have" in all my shows!
• Min Hob fik ya ghari –  Safaa Farid > Another one of my must-haves like all the music orchestrated by Safaa Farid.
• Mafia - Mohammad Ramadan > All the hits of this artists are perfect to dance in a cabaret or party!
• Roubbama – Le trio Joubran > I love his music with a specific atmosphere.
• Law Hobna Ghalta – Wael kfoury > We never tire of it!
• Mejance Sharon – CD Sharon Mesguich > These dancers treat us by producing their CD for our greatest pleasure!
• Ana bastanak – Al Kamar orquestra oriental > My last one danced on stage
• Zourouni – Dorsaf Hamdani > A pure beauty! Perfect to finish by stretching…


Which style of Oriental dance (Baladi, Sharqi, Mejance, Saïdi…) do you prefer dancing on and why?
All the folklores make me dream, Mahmoud Red's work in troupe is incredible, so poetic, complete, and bewitching! Each of his bellydance choreographies is an ode to Egypt. The interpretation by the Nesma & Al-Andalus Company especially for his show in Madrid is remarkable!
But personally, I'll keep the elegant and bewitching Sharki : I love all the possibilities; do a series on the spot and then take all the space to fly away! The song of emotions often varies thanks to its rich and elegant music. There is a strong encounter with the public; as if to say hello to them; which I really appreciate.

Finally, I'm a big fan of bellydance costume: it's always a pleasure to wear a large Bellydance skirt with 20 meters of fabric and hundreds of strass which will go beautifully with twirls and arabesques…


Which dance accessory (veil, Isis wings, cane…) do you use in your choreography and why?
All the Bellydance accessories are very beautiful in a troupe, the synchronization effect is multiplied by ten!
The bellydance veil a bellydancer wears wherever she goes is my favorite! Whether worked or improvised, the effect is always great and the handling diversified! My students love it like myself and most dancers I believe!


What is your analysis on the evolution of Oriental dance in the last 5 years and how do you see the future?

10/15 years ago, real changes took place: we finally renewed our wardrobe, the number of courses exploded, dancers began to look for their own style... I feel that everything was happening at once.
Today, Bellydance is well-off, asserts itself, is present in all fields, and stands out.
There are very large bellydance festivals which professionalize: a bunch during a few days of shows, workshops, costume stands, girlfriends' reunions, and new music! Everything is well-established, organized, and festival-goers are probably more specific in what they are looking for.

For bellydancers, many assert themselves with a more personal style. They manage to make us rediscover our dance, inspires us.
But some bellydancers are controversial. This is the case of show girls in Cairo and elsewhere who entertain the party venues: some of them very charismatic and some mediocre! But one thing is certain, no one is indifferent!
For bellydance shows, one of the nice evolutions is the multiplication of great shows with a story. They bring a new opening to our dance and actually change from shows with no logical sequence. Of course those of Jillina are a model of professionalism and excellence.

You find something for everyone's tastes today. I think that as in any artistic discipline, Bellydance will evolve and will be more or less fashionable according to the periods but will continue.

Watch Maläyka and her dancers in "France's got talent" :