Lauriane, oriental dance between passion and determination
Thanks to Lauriane, dancer and multidisciplinary dance teacher for answering our interview with commitment and enthusiasm.
What is your "dance CV" and how did you get your passion for oriental dance?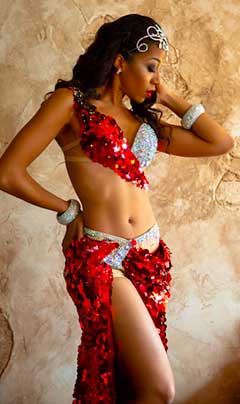 I have always danced, I have no memory of childhood without art.
I pushed the door of my very first dance class at the age of 5 years and a half. At first, body awareness. Then the following year, a real dance class, where I discovered Kabyle dance and North African music, by chance. Passionate from a very young age, I liked to choreograph modern music for all my school shows.
Later I took academic dance classes (modern'jazz for 7 years, but also a few years of contemporary and classical). This allowed me to acquire rigor and perseverance, this dancer's posture and gait, and the desire to always go further in perfecting my technique.
During a modern'jazz show, a group scene I was interpreting had an oriental part. I must have been 14 or 15 years old. My mother was there and she pointed out that this style suited me well.
A few years later, I started to deepen the "dances of the world" that were tinting my modern'jazz scenes more and more and whose music I liked.
So I trained in Bellydance and I literally fell in love with it, as well as in salsa, kizomba, semba, heels, floorwork and samba.
Oriental dance has taken an incomparable place in my life because I developed an unimaginable form of expression and surpassing of myself.
Being a hard worker, I trained with masters around the world (Mohamed Kazafy, Kareem Gad, Julia Farid, Yaël Zarca, Taly Hanafy to name a few). 
And this in order to never stop learning, working and perfecting my technique, style, and pedagogy.
Since 2015 I have been awarded many times all over Europe (Ukraine, France, Spain, Germany, Holland, Poland, Switzerland) and hold the title of "Bellydancer of the world".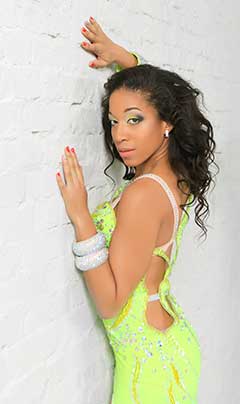 Training being very important to me, I passed the international certification as a teacher of Oriental and Fusion dances in 2016. This training, set up by Assia Guemra with the International Dance Council, is recognized by UNESCO.
I also attended all the professional training I had access to both nationally and internationally (Ukraine, Canada) to study anatomy, rhythms, pedagogy, Bellydance's history, instruments, and other things such as marketing…
Today, I teach oriental dances on a regular basis in Paris and its region, as well as abroad during festivals or intensive dance camps (Germany, Switzerland, Poland, Reunion and Guadeloupe islands, England...).
After having danced in prestigious troupes (Bell'masry, Kazafy Troupe France, Cairo by Night) and founded my own (Nahel), I dedicate myself to my career as a soloist and to teaching.
In your Bellydance career, what are you most proud of and why?
It is a difficult question because I have been moved by and proud of many things:
For example, every day I am so happy to see my students progress, some of them don't even notice it right away. Or when new students tell me they learned so much in one class with me. When some tell me that my dance class is their "sunshine of the week", or helped them overcome great challenges... As a teacher it warms my heart.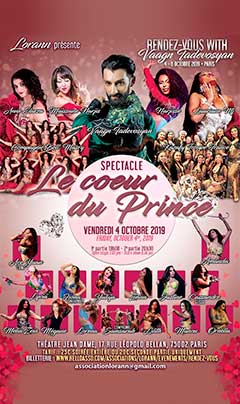 I was also very proud of my first big event. "Rendez-vous with Vaagn Tadevosyan in Paris by Lorann " in October 2019. It was an intensive weekend of Bellydance, co-organized with Anne Elarza. We offered 3 workshops with Vaagn from Russia, but also wrote and directed a great show "The heart of the prince", a real dance tale. With on stage about thirty artists including Vaagn, Narjisse, Maïssane Narjis, the Companies Bell'masry (directed by Taly), and Kazafy Troupe France (directed by Salma Ben and M. Kazafy). The event was very successful and the attendees came from America, Asia, and all over France. A very emotional moment!
But if I only have to count on my dancer's cap... I'd say all my international awards. At first, I entered competitions to challenge myself, have videos, and above all have the opinion of professionals I admired about my work, because I always performed my own choreographic creations.
In the end, these competitions brought me much more:
-the words of those great dancers who touched me like Mayodi: "You have found your way, don't change anything", Elena Ramazanova "You are a true professional"...
-peers' recognition
-stages, so a way to share what I live for, and this led into being invited to teach in places I never thought I would go one day.
What was the greatest difficulty you had to overcome to make dance your profession?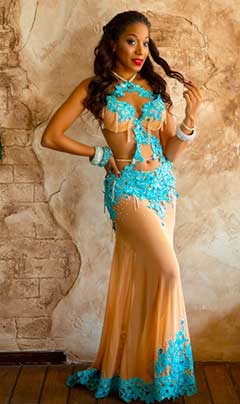 Originally, I didn't intend to make dance my job. I studied, got a Master's degree, and started working. But passion quickly caught up with me!
First, because I devoted a lot of time and energy to it and after I was beginning to travel too much and sleep too little. So I had to make a choice. I went for it and gave myself 2 years to make a living out of it. It went well and, to my great surprise, quite quickly! (I, who was so afraid to stop what people call "a normal job").
But the greatest difficulty is at the moment, during this pandemic when courses are done remotely; projects abroad are cancelled or postponed... I put a lot of energy to maintain my classes, give a smile to my students, and survive without being on stage, traveling, and practicing partner dances.
But I am one of those who like to see the glass half full. This period allows me to do other online training, think about new projects and perfect my technique on the travel times I no longer have...
What do you dream to achieve in oriental dance?
I'd rather talk about projects than dreams. I will keep a small secret garden, my projects will be unveiled in due time. Just follow me on my different social networks to know everything.
However, I will confess that I dream of being able to go back on stage, travel and teach around the world. In other words, get back to my life before Covid and continue on its beautiful path.
You've recently offered an "old school" workshop on the theme "golden era style". Can you tell us more about its content and contributions, as well as the characteristics of this period in oriental dance?
I regularly organize a day of workshops called "BE MORE by Lauriane Mj", with a different theme each time. In December 2020, for my BE MORE old school I chose to teach around the golden age of oriental dance.
During this workshop, I reviewed this period and the evolution of Bellydance since Ancient Egypt. At the technical level, I emphasized the grace of the hands' work, the mobility on the floor, and highlighted the facial expression's importance.
Everything illustrated by learning a nice choreography in this style.
The golden age period (or golden era) is between 1940-1960. We are still at the beginning of modern oriental dance (raqs sharki) where the addition of codified dance techniques to folk dance, gives a subtle, refined, and pleasing mix to both Westerners and Orientals in Cairo. It is also the period of the Bellydance popularization in the world, thanks to the cinema, featuring great dancers with exceptional charisma such as Samia Gamal, Taheya Carioca, Soeir Zaki and many others.
I wanted to get back to the roots, to simplicity, grace, and expression beyond the thousand and one contemporary styles' movements.
In terms of oriental dance costume, what are the favorite styles, materials, fabrics and colors you wear?
I like to wear Bellydance costumes in bright colors, with rhinestones, and original cuts, rather close to the body. In short, outfits which follow each of my movements and sparkle on stage. I like the trains which give an elegant look to an outfit, and the slits that let you see the legs' work. I am particularly fond of light fabrics that are easy to carry, pleasant to wear, and practical when traveling.
Most of my oriental costumes are by great Russian, Ukrainian, and some Egyptian designers. In your store, I like for example this black sequined Bellydance outfit.
For the workout outfits, I like once again the light, lacy, see-through ones. Students can clearly visualize the technical work of the movements while showing femininity and sensuality without any vulgarity. Finally, I love dance suits, which I am also used to wearing in SBKZ dances (salsa, bachata, kizomba, brazilian zouk).
Who is the belly dancer currently performing in Egypt you admire the most and why?
I'm not a big fan of the most fashionable style in Egypt right now. I am more sensitive to elegance, emotion, and technicality that I find in Ukraine with Dariya Mitskevich and Julia Farid among others...
However, I really like Oxana Bazàeva's technique, Shahrazad's very generous style, and I never miss an opportunity to attend a workshop with the great Randa Kamel, so authentic!
What other dance disciplines do you teach? What are the particularities of each ones? And why do you like them so much?
In addition to oriental and fusion dances, I also teach Elgo and kizomba/lady styling.
Elgo is a young French discipline combining the basics of fitness and girly dance. Created by Luna, women can feel better in their bodies and heads thanks to several ways:
-cardio and muscle building to sculpt and strengthen the body
-core strength to have a better daily posture
-dance, feminine attitudes and fun atmosphere to totally let go and a escape stress better
All this can be done with or without heels, with extreme safety. Wearing heels can emphasize femininity and the feeling of being beautiful, as well as accentuate the work of balance and core strength, allowing a strengthening of all the stabilizing muscles and abdominal belt.
The dance part is inspired by Street jazz, heels, gogo, floorwork, Lady style, afro-latino...

There are different variations from the most sporty to the sexiest one, I've taught them all for nearly 6 years. Being very active and asked to teach it in France and abroad, I have been raised to the rank of top leader for the last 3 years.
Kizomba is a partner dance which comes from Angola, and which requires a great musicality, footwork and lifts' techniques, but also and especially some listening because it is a social dance and so sharing between 2 beings. The leader (usually the man) guides. Therefore he decides on the different moves and step combinations. The follower (usually the woman), must be able to follow everything her partner indicates while sublimating the whole, thanks to her "Styling", and without the leader being hindered. This Lady styling requires a mastery of her body (isolation, fluidity...) on top of all the abilities inherent in the partner dance. To learn Styling, you don't have to practice kizomba. I've not been able do without it for 7 and a half years!
I chose these dances because first of all, I love this music a lot.
They are also technical dances but accessible to all. So there are no physical criteria or specific ethnic origins to practice them.
But also, because these are dances allowing women to re-appropriate their bodies, reconnect with their femininity and literally escape!
And I am very proud and moved to have been able, for years, to help nearly a hundred women feel better about their bodies, minds, and lives.