Swing Veils in oriental dance orientale, what's that?
Thanks to Clélia, oriental dance teacher and artist for teaching us about Swing Veils, the dance with fire but also Geek dance. So many fascinating subjects we like to discuss and explain in our Blog to promote innovative, sensational and progressive Bellydance!
Apart from the Bellydance lessons you give, you teach swing veils in workshops. Could you tell us more about this accessory still unknown?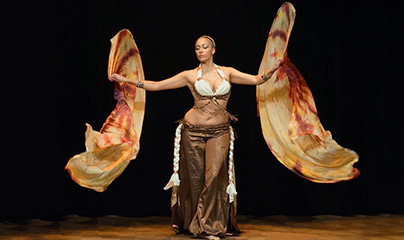 I teach oriental and tribal fusion dance in regular group lessons. I sometimes teach Swing Veils® in my group lessons but it's true that I started to be invited by other teachers to give workshops within their dance associations (at Sarah Colin's Samsarah association, in Herblay ; at Assia Guemra's Tellurgie association, in Paris ; and with other teachers but, unfortunately, because of the first confinement, the dates had to be cancelled). This accessory is so beautiful that it arouses the dancers' interest. But not only, it's an accessory which interest also circus performers, street artists, but also rhythmic gymnasts...
Swing Veils® look like weighted double veils made in quality materials. The fabric used is 100% silk. This is what gives it that incomparable movement that no other fabric matches.
I speak of Swing Veils® in the plural form because they are often a pair. Handling two Swing Veils® gives a majestic scope to the person using them. But you can also use only one Swing Veil®. By the way in my workshops I start teaching with one. It's like the veil we first try to dance with one veil before tackling the double veils.
This accessory was thought of, conceived and prepared by my sister Christelle Sainton. Gifted with manual as well as artistic know-how (custom-made accessories, bellydance costumes, headdresses, fire accessories, Swing Veils® but also poï veils, veils for oriental dance and double veils in silk…), and info graphics, she has recently created the Atelier Krysaliss, a family workshop where her husband and our mother help her and are also full players in the various workshop's achievements. Everyone has their specialty; my mother, Orida Krouni, as a plastic artist will rather create the headdresses. Olivier Zimmer, her husband, passionate about the arts of fire, will make fire accessories. And everyone helps out to take care of the Swing Veils®'s orders.
For the record, my sister Christelle created at the time little flags for Olivier Zimmer and her to practice juggling, which I had tried a few times. In 2016-2017, I had to present a new solo for the future dance season and stages. I remembered that my sister had told me that it'd be cool to start creating a new accessory she had in mind. So, for my choreography "Death in the soul" I wanted this accessory we had talked about but did not yet exist yet. I wanted the small flags, but in sizes closer to the Bellydance veils with some changes with the grip. There were some tests with the weight. We also tried several fabrics. So we went to the Saint Pierre market. I remember the two of us twirling fabrics above our heads to get a feel for the look. Just like this the original pair of Swing Veils® was born.

While watching videos, we came across the American "swing flags", a little easier to handle thanks to their flexible rods (as if Isis wings had flexible sticks instead of rigid ones), but less flexible and diversified in their handling. As a former rhythmic gymnastics gymnast, I am very comfortable with accessories and I love them! So I gave my sister the green light. For the first use, I created an epic fusion choreography presented at the Caïro By Night 6 organized in Paris by Maria in 2016, and in 2017 during The Dancer's Gift show, also organized in Paris by Myrto Kaukias. This is how the Swing Veils® were unveiled onstage and entered the world of oriental and tribal dances for the very first time. As time went by, I developed this accessory's handling and created other choreographies I performed in France and abroad. After each stage performance, the audience and dancers came to congratulate me and tell me how beautiful this accessory was. They were also intrigued because they had never seen this anywhere else; they asked where this could be found. It was after this enthusiasm that my sister and I decided to register the mark, prepare and sell them. The first people to buy them became ambassadors and enjoy the title of Swing Veils® Ambassador. There are still a few spots left to get this title before we close the floodgates.
In the workshops, I also teach how to play with the Swing Veils® in oriental dance. I like to say "play", because it's a very playful accessory. At each workshop I give free time to discover the accessory. The trainees have a great time and laugh a lot because it is not uncommon to get carried away by the movement and speed, which must be mastered if you want to avoid being hit by the weighted part. Anyway, it is an accessory that fits very well with Bellydance, tribal fusion dance, but which could also be used in classical and contemporary dance. When dancers handle them, they use them more the movements of their dance, with sun turns and large-scale movements, while jugglers more often develop handling them on the spot.
When it comes to the costume, you have to wear something comfortable, because the movement of the accessory should not be caught in sleeves that are too long or a skirt which is too loose. There is no manual, it's just common sense. Imagine and test your costume before dancing on stage will avoid unpleasant surprises. For example, in one of my choreographies, I had a whole part where I was going down doing a split and I would lie on the floor. So I chose to dance in baggy sarouel pants, rather than in a skirt. On the other hand, if we know that we are going to use the Swing Veils®, at the beginning, as an introduction, a bit like the veil was used by the cabaret dancers that we could see in the golden age's movies of Egyptian cinema; we can very well be dressed in the traditional Bellydancer costume with the bra top and a skirt.
When it comes to the music you can use the Swing Veils® on, I'd say the limit is your imagination. It depends on your specialty and what you want to express.
The Swing Veils®' sizes are recommended according to the person's size for optimal use. They are indicative but in no case mandatory. For example, someone 1.70 m tall can very well handle the "small" Swing Veils® it this is the wanted effect. You're the artist!
To sum up, what are the differences and similarities between Swing Veils, veil poï, double veils and Isis wings in terms of visual rendering and handling?
For the former rhythmic gymnastics gymnast that I am, the first similarity is that, like many accessories, they are fun. This is why we use the phrase "playing with your prop". Who doesn't like playing? Everyone likes playing! As a grown-up, we often forget the benefits of playing. When someone puts an accessory in our hands, we immediately go back to this youthful and beneficial energy the game gives us. This is a great remedy to chill, and fully be in the current moment.
When it comes to holding the accessory, I would put the Swing Veils® with the double veils, because they are both held by the veil.
When it comes to handling, I would put the Swing Veils® with the poï veils, because they have this common manipulation like the bolas (a kind of poï without veils), which we find in street art. The main difference is that the poï veils are held by straps, which are connected to a cord or thread, this one connected to a ball, finally connected to the fabric. With the Swing Veils® you hold the weighted fabric in your hand. But the way of handling them is somehow the same.
In my opinion, Bellydance Isis wings are a little apart, because they are hung around the dancer's neck, in addition to being held by the sticks. So if you let go of the sticks, the Isis wings still hang like a cape. Unlike other accessories (if used in a conventional way), which fall if you let go of them.
There is a whole variety of similar movements that can be done with these 4 accessories. Especially, just the fact of holding them and turning with them, arms open horizontally (a great classic). But with Swing Veils®, unlike other accessories, you are easily carried by the weight of the weights (a bit like a dervish is carried away in his/her turns by the weight of its tanoura).
You must try these different accessories to fully feel their differences. Although showing similarities, they are clearly distinct when it comes to sensations. To be comfortable with all these accessories, it is really a question of habit, handling, understanding the accessory's reaction to the movement given to it, and of course training.
In my opinion, visually, they all look great. For my part, I have already used so much all the oriental dance's accessories (which I like a lot too), that the novelty and the handling challenge that Swing veils® represent attracts and motivates me hugely. This is also what I wanted to share with seasoned dancers, coming from oriental and fusion dances. But careful, I am not saying that you have to be a seasoned dancer to use Swing Veils®, I am just saying that this accessory opens up new perspectives for all those who have already explored all the existing Bellydance accessories.
You're also known for your choreographies with fire. Which accessories do you use? How do you use this type of service? Which skill does this particular discipline require? What do you like in this practice?
That's very sweet, but I think I'm known better in the oriental and tribal fusion dance world for my tribal fusion dance choreographies. I also dance with fiery props because I love the spectacular dimension that fire adds to dancing. Dance like fire are quite mesmerizing, aren't they? So together they're fabulous!
I use lots of different accessories: fire hands (very popular with medieval tribal dancers), fire clubs, fire poï, chicha poï (which spark everywhere), the fire stick, fire sword, the fire claws (these made by Olivier Zimmer).
If I don't practice the art of dance with fire as much as I would like, it is because I am mainly invited to perform in theaters and performance halls during oriental and tribal fusion dance festivals, which does not allow the practice of fiery props. This requires specific measures such as fireproof curtains, floors, and seats, a suitable ceiling height, outside access or to a place where the artist can drain her accessories... So many constraints that make it very difficult to perform the art of fire dancing in this kind of event. That's why I perform mostly outdoors for local events, or sometimes indoors in spacious venues.
To practice dance with fire, you must: I was going to say not to be afraid of fire, but that is not true. In 2019 the Tribal Geek association, I am the artistic director, organized the Fire Dance Day. Olivier Zimmer and I taught people who were not, at first, very comfortable with fire. Why did they sign up you'd think? Probably to confront and overcome their fear. I'll share the example of my musician friend and student Tanina Cheriet. She arrived with apprehensions and finished her training day dancing a whole choreography with the fire hands. So to answer the question what skill does it take to practice the art of fire dancing? You must be supervised by knowledgeable people to avoid bad experiences. Otherwise, you just have to love dancing and wanting to handle fiery accessories. Afterwards, to do it as a job and perform well, of course, on one hand, you have to have a good dance level, and on the other hand, have a minimum of experience with different fire accessories.
You also offer Geek dance lessons. What is it and how was this training born?
For the purposes of the Tribal Geek Festival which I initiated, a ballet of amateur and semi-professional dancers, selected by audition, was born. The idea was to expand the Tribal Geek Show, (the festival's main show), with group performances, which would punctuate the professional guest artists' performances. I love group dancing. A group gives a majestic dimension to a scene; it would have been a shame to do without it. the Tribal Geek Festival 1.0 et 2.0, took place in 2016 and 2018 in Paris. It was to bring together my two passions: dancing and particularly Tribal Fusion dance, and geek culture. I was convienced this mix would be wonderful. The main show of the first edition is titled "The fantastic story of Dr Who", and the one of the second "Back To Fantasia". The first refers to the series "Doctor Who" and the second to the cult movie "The Never-Ending Story". In both, the principle is the same, write a story which allows a hero to travel through space and time. This way we introduce it in all kinds of films, series, manga, anime, video games of different styles: medieval fantasy, post-apocalyptic, techno-futuristic... The goal is to always create a story mixing lots of references to geek culture and give out the roles to the artists. So we find the cartoon's heroines Cat's Eye, or super villains and super heroines from the worlds of Marvel and Dc comics, or desert's inhabitants from Mad Max, samurai or other Siths and Jedis, or even zombies from Resident Evil. Throughout his/her quest, the hero goes from one universe to another. And, along the way, he/she meets characters played by professional artists and the Tribal Geek Ballet. I like the idea that a scenario is the show's true interest. This gives an additional challenge to artists who produce an original creation and interpret a character. They find themselves serving the story. This is why we are very careful with the artists we are choosing. Above all, they are beautiful people, motivated in the project and with a generous spirit of sharing. I digress a little, but to introduce Tribal geek ballet in a few lines, and the festival in which it takes part, it was important to tell you about all this.
The fact is that after the festival, the hard core of ballet dancers wanted to continue the adventure and create Geek dance scenes and that's why the term Geek Dance. It involves that dance serves the purpose of geek culture, or geek culture is the playground of dance.
I have always found it a shame that in geek conventions like the Japan expo, the manga expo... cosplay (the art of creating your own costumes of characters coming from geek culture), serve most of the time to wandering. Every time I saw some, I imagined what it would look like with professional dancers. It would give wonderful performances. This is also what I wanted to see.
Finally you teach tribal fusion. What do you like in this dance?
I was seduced by Tribal Fusion dance and it makes me completely happy as an artist, because it allows some freedom of expression and movement quite rare. A former gymnast, I remember when I started Bellydance, when I had to create choreographies my dance teacher friends directed me by telling me that I could not add such and such movement, it wasn't oriental enough. So when I discovered tribal fusion dance, I fell, all of a sudden, much freer in my creations. And I have to say that the artist I am, who always look for novelty, I was really happy that tribal fusion dance and I met. The desire to go where no one else ventured, whether looking for movement itself, handling new accessories, developing a festival of a new style, that's really what drives and defines me. Swing Veils®, the tribal geek festival, choreographies like "The Dryade", in experimental tribal fusion, with lianas sleeves also designed by my sister Christelle Sainton... All this defines my authentic and original journey. I don't like to be like everyone else. I like watching and being inspired by other artists' work, but if it's to do the same thing again, I'm not interested. If I am well-known, so much the better, but what drives me deeply is being able to bring something different to the dance world; I also share this in my teaching. This is also what my students like, in addition to my taste for technicality and the osmosis between the dancer, the movement she produces in and out, and the music.
What is your athletic and artistic background?
At 6 years old, my mother signed me up in Rhythmic Gymnastics. You know the sport balls, hoops, clubs, ribbons and ropes. My geek side will tell you: You know this sport that people of my generation discovered thanks to the Club Dorothée with the character of Cynthia from the cartoon "Cynthia, or the rhythm of life" or "I love gymnastics".
After a year spent with a male teacher, who squinted which meant that we never knew who he correcting, I decided to stop this sport and I started artistic gymnastics. With this time the beam, uneven bars, floor, and the vault. I practiced this for 3 or 4 years. I enjoyed it but I missed the dimension of dance found mostly in rhythmic gymnastics. I watched with envy the rhythmic gymnasts we were with at the same gymnasium in Gennevilliers. The coach changed, I re-enrolled in rhythmic gymnastics which I did not stop until I was 23. I was an individual and team competitor in the federal category in the French gymnastics federation. We trained 3 times a week and we also had classical dance training, which was completed by contemporary dance when we were young adults.

After, I studied one year with Erasmus in Spain. My friend Taly came to visit and we spent a week together during which she introduced me to Bellydancing. She told me I was gifted and that I should sign up once I came back to France. My sister who also wanted to practice found a class in Epinay-sur-Seine. That's how I started oriental dance at the age of 24. I have been well advised by artists of quality. Taly hanafy, who made me aware of my artistic potential and put my foot in the stirrups so to speak. Anasma inspired me at the time in tribal fusion dance and Yoga Dance recently. It allowed me to open up to new possibilities. I was also Linda Faoro's student whose style is unique. I passed a certification with the UNESCO by following the teaching of Assia Guemra where I acquired a lot of knowledge, including the body's anatomy, oriental dance and its history, proprioception…

I also trained in Puerto Rican salsa, mainly with Mouaze Konaté. I have diligently followed yoga and Bykram yoga classes which I discovered during a weekend in Prague. I also practice the Japanese sword with my sensei Masato Matsuura. So many diversities to make me evolve and grow in my life, in my dance.
I had the opportunity to teach as a substitute for someone on maternity leave. That's how I started my job as a dance teacher. The students appreciated my pedagogy and I enjoyed teaching. This has been the road I chose to blossom. I first started to teach Bellydance but fast and as soon as I could, I offered tribal fusion dance lessons in places where I was giving oriental dance lessons. This is how I contributed to the influence of this dance in France. I also created a festival for this.
I've blossomed in oriental, tribal fusion, and more occasionally fire dance. I had the opportunity to be invited to dance on beautiful stages and participate in beautiful projects, in France and abroad (Paris opera house, Algiers opera house, French Institute in Abidjan, the Alhambra, La Cigale…) with internationally renowned artists. And as my favorite motto says: "There's plenty left to explore".
What can we find in your oriental dance closet?
Ooh la la… Lots of things! Since I played a lot of characters, but also danced for events, my artist's wardrobe is very eclectic. It starts with my first professional Bellydance costumes, bought in Cairo or made in Paris, then specific creations such as a snake costume; the one of the Cheshire cat in Alice in Wonderland; a dryad's one ; or even the one of a mermaid; through one of an abominable zombie; an Amazon; an Egyptian queen… Otherwise, I also have basics for entertaining like a black and silver Bellydance costume or a gold oriental dance costume. I have pretty Head band and headdresses of all styles made by my mother Orida Krouni (mermaid headdress with seashells, dryad headdress with leaves and deer antlers…).