Fériel, an outstanding Oriental dancer and choreographer
You are one of the emblematic French Oriental teachers and dancers. How was this passion born and what has your career been like so far?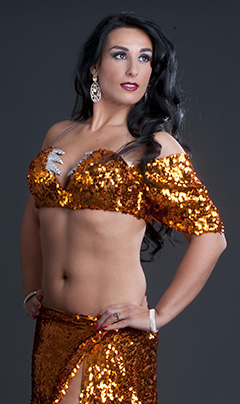 I've always loved dancing and practiced several disciplines before falling in love with Oriental dances, my passion and job. My dream as a little girl: being a prima ballerina, but I soon understood that I wouldn't fit into the mold of classical dancers... I couldn't express myself enough and create... I wanted to be a choreographer, a dance teacher, share; so after an appearance in classical, modern jazz and modern, I tried salsa, tango, ballroom dance, Polynesian dance, and flamenco... I also tried a little bit country line dancing, African, Indian, and Brazilian dance...
I love cinema and musicals, I even toured when I was younger. I also was a member of a cinema club some years ago and I participated in the movie "Tournée". For 10 years, I was a choreographer and director's assistant for the actors and extras' movements, and played the role of Marie-Madeleine in the son et lumière show "Jesus".

I started to work at 18 in restaurants and private events with and without a band. I learned a lot, worked with other artists (musicians, painters, dancers) and collaborated with Polynesian, Indian and Flamenco dancers... Meetings are important in a career just like training... and I educated myself a lot.

I've continued for some years by measuring and being more accurate in my selection while remaining faithful to some of my masters: Yousry Sharif, Gamal Seif, Khaled Mahmoud, Wael Mansour, Tito... The meetings with my masters, mainly men, allowed me to develop my technique and knowledge but also my dance and style. I was in Khaled Seif's company for 1 year while having 3 dance companies (a classical and fusion, a tribal fusion and one with children) then I decided to only work with 2 companies: the « Fériel Fantasy group » and « la compagnie Jawhara ». We've participated in many competitions and won solo or group prizes in France or internationally...

I've been teaching bellydance for 20 years and I've been an oriental dancer in Nantes for 23 years. I also organized for 12 years the « Jawhara Oriental festival ».
For 3 years, I've been training in babywearing dance, yoga, and infant massage... in order to dance a different way and introduce the discipline to another audience. I've been creating my costumes for more than 15 years and currently I'm taking sewing classes and I started darbuka lessons not so long ago for future projects...
I've always loved challenges, again this year I'm collaborating with an Egyptian and starting a new choreographic adventure with the « Fériel Rodriguez Oriental dance ensemble ».
My problem is I've got too many ideas and not enough time or means... I'd like to put on shows and have the work of Oriental dancer and choreographer recognized... I have always dreamed of a sponsor because unfortunately we cannot count on subsidies... So if you hear this ;-)


You are famous for your choreographic talents which turn into magical and enchanting performances, where do you get your inspiration and how do you imagine, build, and stage these choreographies?
As you read, I'm curious, over all I love art and I'm impressed with lots of disciplines: circus, painting, sculpture, singing, figure skating, fashion, cinema, all dances... in short what can carry you away and give an emotion. In my opinion, an emotion is the key... Incidentally I only choose music with emotion, if I have goose bumps « that'll work», it's true, my dancers know this.
I organize little ahead of time just if I feel like I need to write down my ideas. For me, each creation is a living painting but it is done with the dancers. Once again, the feeling, energies, letting go, and emotions are very important factors.
I love telling a story, it can be simple, just an idea, an emotion, or something more complicated like a theme... When I listen to music, I see very quickly a whole, an atmosphere, lights, costumes, movements... I'm able to repeat a passage several times... and change choreography, improve it until my idea turns out well even if often we have to adapt and make concessions... The movements, energies, synchronization, the visual and theme must match while highlighting the dancers.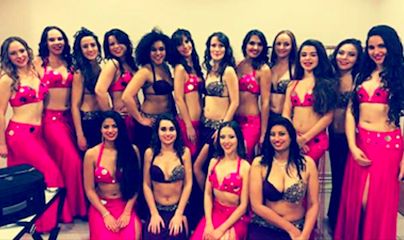 I think the secret is: allow yourself to do everything, dare to create, test and sometimes fail to come back. You must keep in mind the point of view of the public and not create only for yourself but also for others with generosity, envy, and passion. A show must look like life: a beginning, emotions, adventures, themes, ideas, exchanges and complicity, the feeling of a journey, colors, discoveries, surprises and, an end. Finally, choreography is also a little bit all of that.


You offer Bellydance lessons to people over 60. What is this specific audience looking for? How are the classes?
These are women who dance without the pressure of success. It's a motivated, passionate audience and very pleasant as a student, we laugh a lot!
They want to stay fit, work the body, joints, and build muscle gently with the pleasure of always feeling feminine. They also appreciate this dance cultural side.
A class is a class so warm-up, we review what we worked on the last time and we go ahead with a new technique or a technical combination, or we do a little choreographic sequence then stretching. The age doesn't change the lesson that much, it's up to me to adapt to the energy of the group, simplify combinations, we take more time, review more... They do not want to move forward just to move forward or become professional dancers. The pleasure of dancing comes first.


Your next gala will be about cinema. Can you tell us more about the scenes, choreographies and surprises you are preparing?
Halalaa, for me who love to surprise that's a trick question!
As always in this kind of theme we could do to volume 1, 2 and 3 since there are so many ideas and it's hard to choose. In tribal, we chose 2 choreographies, Marilyn Monroe and Maleficent: 2 women, 2 atmospheres ;-)
For classical dancers, we'll go through Pirates of the Caribbean, Games of thrones, Egyptian movies with the golden Era, Charlie Chaplin, Zorro, Rocky, Pulp Fiction and many other surprises... But no you won't find out everything... it's up to you to come see the show! Looking forward to seeing you.



What are your tastes in Oriental dance costume?
Everything except the vulgar... To be honest, I seldom buy a Bellydance costume because for 15 years, I've been creating my costumes and drawn those of my students. I love the relationship with the material, colors, decoration and above all I design according to my choreographic creations and that's priceless, it is fantastic luxury! And since I like to dance on everything: classical, mejance, Tarab, fusion, folklores... I have a very nice collection!